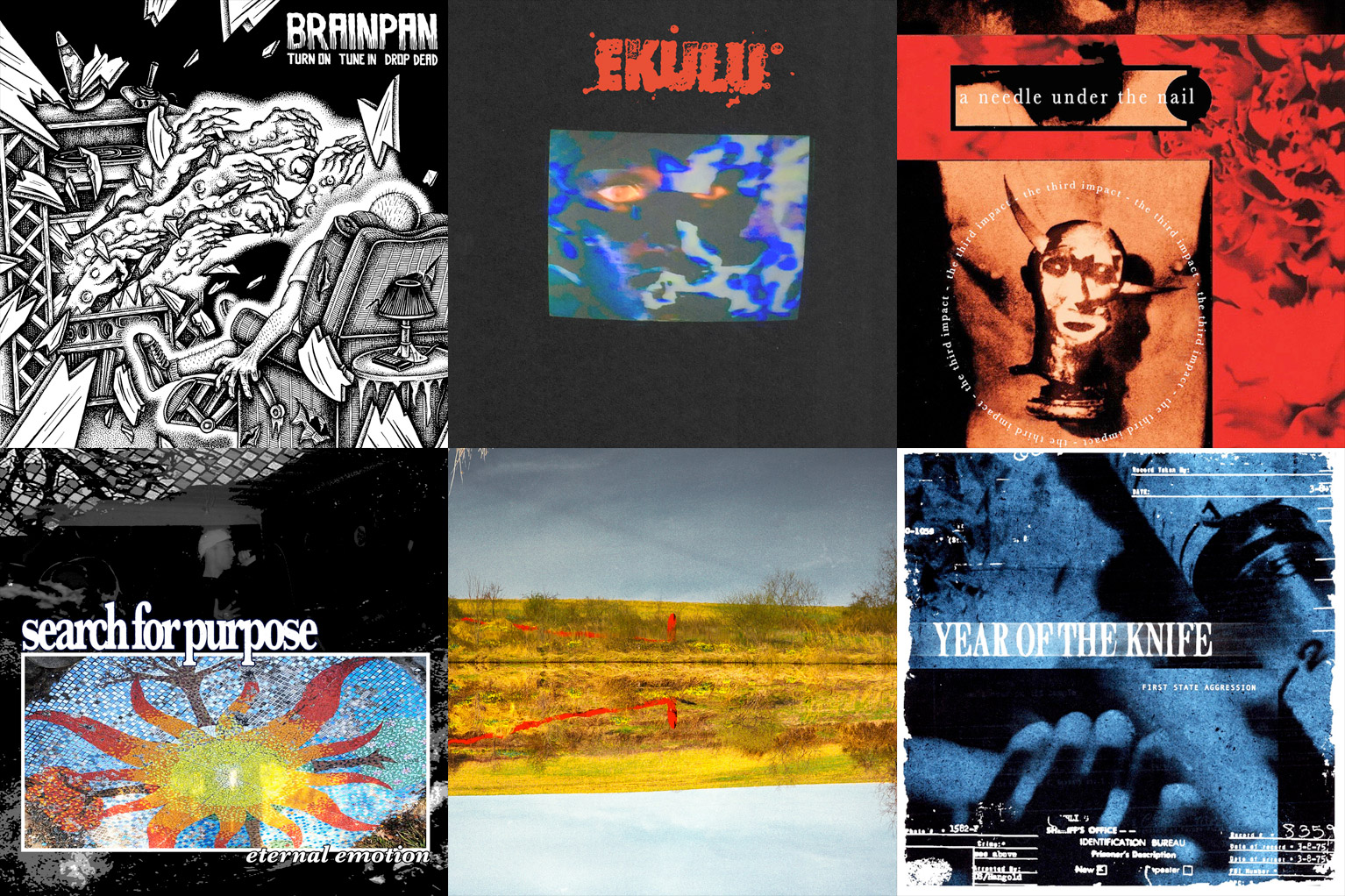 Had a slow day at work yesterday, so I forced myself to crank out "quick hit" mentions for another handful of noteworthy releases that have crossed my path in the past few weeks. Here they are, in alphabetical order...
Brainpan
Cranking out 21 tracks in just under 21 minutes, Turn On, Tune In, Drop Dead is the debut full-length from Washington, D.C.'s Brainpan. Expect grinding hardcore/punk with a hint of a powerviolence edge. I've never had much of a tolerance for "no slow/all go," so thankfully we're dealing with a range of tempos and riffing diversity here. It's really all over the map with energetic three-chord hardcore blasts; crusty distorted bass; dark, His Hero is Gone-esque melodies; frantically noisy yet controlled hyperspeed outbursts; and much more. Strong songwriting, great album title, amusing song names that counter bitterness with sarcasm, killer production with a well-balanced mix... what more do you need?
Pick this up via Bandcamp as a name your price download or on LP—limited to just 300, of which 100 are superbly christened "Ghostbusters II slime pink" vinyl. Excellent!
Ekulu
Rumored to feature members of Illusion, Ekulu's debut three-song EP started getting a shitload of hype on social media not long ago, and—for once—the hype is warranted. This pretty much sounds like the perfect fusion of Born to Expire and Alpha–Omega—flashy guitar leads 'n' all—just with gruffer vocals. There are few better NYHC-related albums to borrow from in my personal opinion, so... do you really need another reason to give this a spin!?
This appears to be a digital-only release, but I have to point out that the download even includes individual lyric panels for each track, and the designs look killer, so that's even more of a reason for this shit to hopefully get pressed up as a 7" one day. It's $5 right now, but I think it was a name your price download when I came across it earlier this month, so maybe they ran out of free downloads? Either way, check 'em out...
A Needle Under the Nail
I randomly stumbled upon this new five-song EP, The Third Impact, from Pembroke Pines, FL's A Needle Under the Nail while perusing Bandcamp a few weeks ago. I think it was actually listed under "best-selling," so the group must be somewhat known, but I don't think I had ever encountered the name before, and it only caught my eye because the cover art looked more like something from In Slaughter Natives or Deutsch Nepal or something, which struck me as cool. This is a pretty nice mix of '90s metalcore styles, though: chugging rhythms and discordantly "stabby" chord phrasings, that H8000-ish European death metal edge, some native Floridian melody and technicality (Strongarm, Shai Hulud, etc.)—not full-on, though, just a smidge—and straight-up screaming vocals. The compositions are a little cluttered, however, often jumping from riff-to-riff/song-to-song without much fluidity, so they haven't reached maximum impact yet. That being said, they've got some top-shelf riffs and a slick aesthetic that boasts a shitload of potential, so I'm definitely curious to hear how they'll develop moving forward.
As I write this, both The Third Impact and their 2017 demo are available for $1 each, so give 'em a shot!
Search for Purpose
I've been planning to write about Charlotte, NC's Search for Purpose for a while—and really should have by now—but just haven't had the time. I can't even recall where I heard about 'em, but—like Secondsight—they were billed as "sounding like Turning Point," more or less, and that's certainly enough to get a click from my old ass. While I'm not so interested in traditional hardcore these days, their impressive debut full-length, Eternal Emotion, explores a heavy, melodic, and moderately paced approach that possesses enough feeling to really pique my interest. And, yes, at their best—tracks like "Journey," "Eternal Emotion," "Collapse," etc.—they do in fact absolutely bring to mind the finest (i.e. emo-tinged) era of the mighty Turning Point through shifts toward not-quite-singing vocals, subtle acoustic runs, and more intricate-leaning melodic guitar work. If that's any indication of the direction in which their songwriting will continue to progress, I'll be the first in line; and I continue to hope that more young bands will start to draw from this vastly underrepresented side of the genre's history.
Será
Another group out of Washington, D.C., Será coincidentally features a member of Brainpan, and Homecoming is their four-song, nine-minute sophomore EP. This material feels like it should greatly appeal to fans of the, say, 1998–2003 range of the Hydra Head Records discography: that organically warm, beefy style of angular and almost chaotic "metalcore" by way of the more post-hardcore-ish noise rock variety. I haven't really followed this vein of the genre too closely in recent years, but this is a high-quality release that's certainly worth a nod. Great recording, striking cover art, etc.
Their prior EP (also solid) is still available on cassette, but Homecoming is digital-only at the moment, so grab it as a name your price download from Bandcamp.
Year of the Knife
I checked out Newark, DE's Year of the Knife back in 2016 and thought they were fine, but I guess they hadn't quite hit me just yet. First State Aggression, however, released back in May, is a noticeable step up. Aside from the semi-industrial untitled segue in the middle, you're basically in for hard-hitting, chug-centric metalcore with powerfully scathing vocals; a healthy dose of gnashing speed; and a touch of that Euro-styled metal riffing—though tighter and more controlled than is often the case. There's just something about the delivery that now comes across as more focused and ferocious; a little darker, perhaps. They're not really rewriting any guidebooks, but it's damn sure a durable and modern approach to this particular standard of the genre. There's a reason these cats seem to be on the come up: shit is on fuckin' point, right here.
First State Aggression deserves a vinyl release, without a doubt, but you'll have to settle for digital at the moment. Hell, maybe a Japanese label will eventually load up a CD release or something? (Look, just let my dumbass daydream, alright?)