I started bugging Joker vocalist Tony Ingala for an interview three years ago, when the band first announced an in-the-works reunion, but it failed to materialize. That same year, though, the top-shelf Chicago hard rockers came in strong on my list of 5 Underrated Glam/Hair Metal Bands, and I've been hoping beyond hope that their infectiously catchy complete discography would finally see a reissue one day, so I never gave up. Here we are in 2017 and Joker has officially announced a one-off reunion show, but as much as I would've loved to grill Tony with 100 questions covering the minutiae of the group's history, I tried to keep it under control so that we could finally make this interview happen...
Okay, so, let's start with the present. Joker's 1992 Cool Deal lineup has reformed for a one-time reunion show on May 6th at the Star Bar in Chicago. What was the spark that brought you back together?
Social media had a lot to do with this. We have over 300 hours of live footage from past shows, so when we started posting the videos on our Facebook page, we realized there was still some interest from the fans.
You're still working with Joker's full lineup from 1992, which is both rare and impressive. Is it safe to assume you all remained friends over the years?
We were never not friends, I'd say that we all just did our own thing over the years. On occasion we would bump into each other at other shows.
This reunion originally started taking shape back in 2014. What did your lengthy preparatory process look like?
Yes, this was a work-in-progress. After the original reunion, we were rehearsing in Chinatown. It took some time to get the muscle memory back both musically and vocally. Unfortunately, we lost our studio and because of that things were pushed back.
It looks like you've stayed consistently active as a musician since the initial demise of Joker. Is the same true for the other guys? Do you want to give a quick rundown of what everyone's been up to?
Sure. Over the years, there's always been some sort of Joker playing out. A few bands with multiple members include The Burn, Floor 13, and Circus Liquor. Those were original bands. Separately, we stayed fresh by playing in local cover bands.
Years ago you had mentioned to me that Joker was working on some new material as well. Is that still accurate? If so, would you say the direction is modernizing at all, or are you trying to recapture the essence of that '80s/early-'90s era?
Great question. Yes, we have new material and it's definitely modernized, however there will always be that Joker feel to it. It would be a shame to not utilize the dual guitar work of Nick [Sikich] and Joey [Miro], as well as the vocal abilities the band has. Right now we're concentrating on the show, but there is also label interest in new songs.
A few years ago, Joker digitally issued the previously unreleased EP, Last Hand. When were those songs recorded?
Last Hand was recorded in the summer of '93. At the time, we were shopping a new deal so we recorded those at Sheffield Studios in Indiana.
What led to the EP not being released back then, and how long after the recording sessions did the band call it quits?
As you know, music was changing and there just wasn't label interest. We continued to play the Chicago circuit and did our last show at Club Dimensions in April of '94.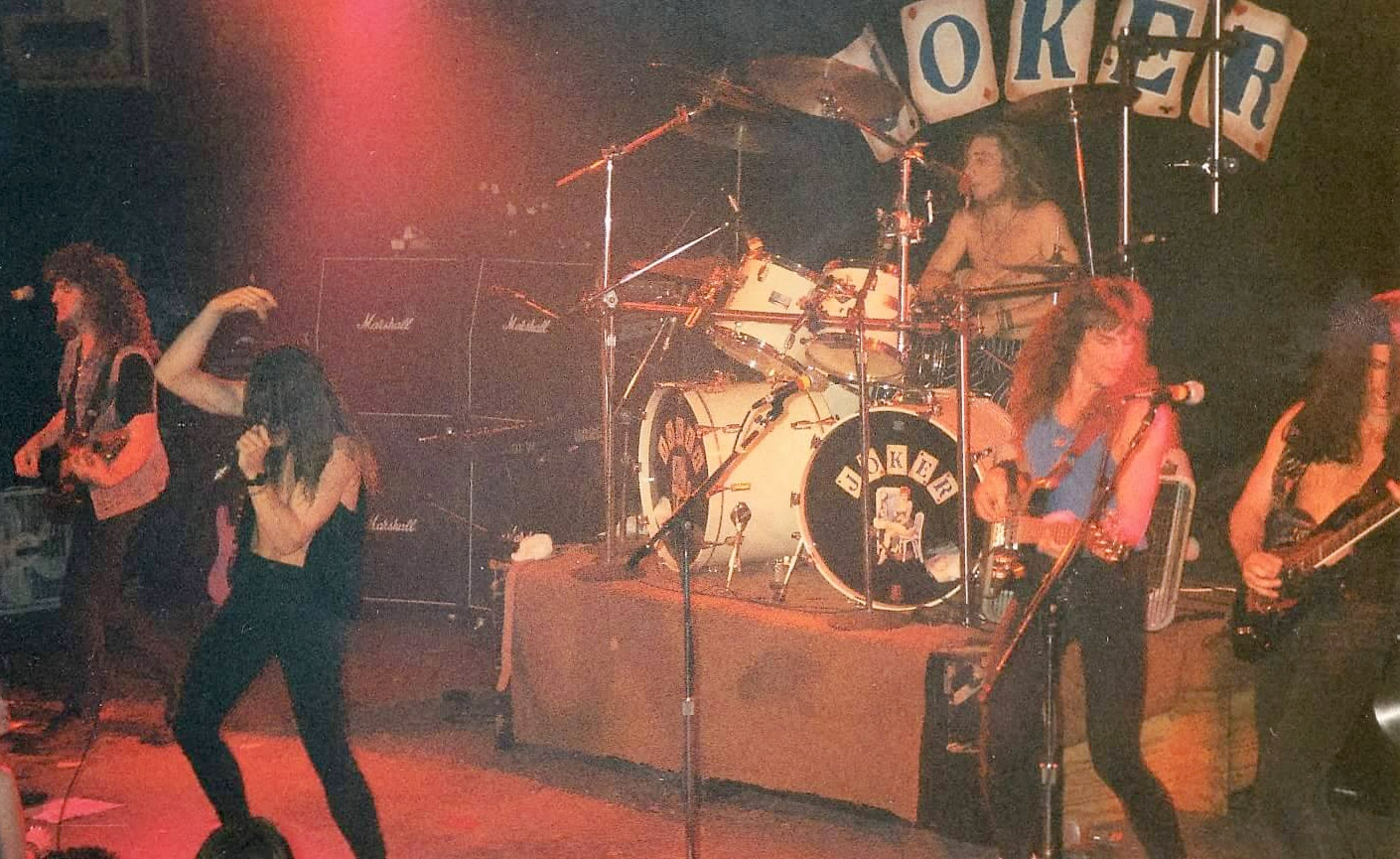 Like many comparable acts of that era, would you say that the proliferation of grunge in the '90s played a key role in Joker's eventual end?
I'm not sure that was "the" reason, but I do know we were tired. We hit it very hard from '86 - '94. We rehearsed every single day. Along with the live workload, we were pretty burned out and needed a break.
I read somewhere that you were once in the mix to replace Jani Lane in Warrant. Any interesting tales there?
A friend of mine was friends with [Warrant guitarist] Erik Turner. I was asked to put together my portfolio with CDs and pictures and blah, blah, blah... In '93, Jani had left to pursue a solo career, but he was back in September of the same year, so it kinda just fizzled out. I also put a promo together for Mötley Crüe through the same friend. [Laughs]... as if!
Did Joker secure any major label interest back in the day? A good number of similar bands were still able to achieve some success with majors up into the mid-'90s, and I'd definitely argue that Joker's songwriting talents were far superior to many of those groups.
Thank you. That's very cool of you to say. We did a few showcases for Atlantic and Sony/BMG. By that time, the A&R reps went in a different direction and stopped signing pop-rock bands.
Speaking of songwriting, Joker's tunes were a unique blend of influences. At times there's a slightly more pop-oriented angle with loads of vocal harmonies, but there's generally that harder edge providing some contrast. What would you say developed that approach? Was it just the natural chemistry of all of the members' individual influences and input?
I think we all had different influences but similar tastes. We did spend time writing songs that were intended to be commercial radio hits, but we always wanted to have a harder edge. That came naturally, it was just the style we enjoyed.
With so many amazingly catchy, memorable songs such as "Mackinaw Avenue," "Party for Your Life," "Say Yeah!," etc. did any particular tracks do well on local/college radio or anything?
We had a lot of colleges playing our music. Locally, at the time, Z-Rock—a national radio show—had "Party for Your Life" and "Lorraine" in their rotation. Unfortunately for us, when things started really cooking they changed their format. Local station WVVX always supported us and the other great Chicago bands that were popular.
Who were your contemporaries in the Chicago/Illinois scene? Were there like-minded bands that you often shared bills with, etc.?
We really didn't have contemporaries. We did our own thing. We respected other bands in Chicago like Enuff Z'Nuff that were making a name for themselves, but only did a few shows with them. In the early days, we shared bills with a great local band called White Lie. They were very Aerosmith, pre-Guns N' Roses sounding. Very cool band.
I believe Joker had the chance to open shows for both Slaughter and Firehouse, were there any other memorable gigs from the golden era?
We did so many gigs. All of our shows were noteworthy to me. Slaughter and Firehouse were cool and all, but some of my favs were the shows at The Thirsty Whale and Gateway Theater. The Chicago original scene was so alive. Every weekend, there would be a show with five or six bands on the bill and the scene was so good. Thousands of people would show up to support "their band."
How did you get hooked up with appearances on the Bad Channels and Demonic Toys soundtracks, and what impact (if any) did those opportunities have on the band's career at the time?
Mark Nawara, Red Light Records CEO, had a relationship with Full Moon Entertainment. Full Moon was a subsidiary of Paramount Pictures. He was able to broker a deal to have us on both Demonic Toys and Bad Channels. It was really cool to hear us in the movie and see us in the credits. I received royalties for about five or six years. A check would show up for $1.73 occasionally.
Similarly, at least one Joker full-length was licensed for release in Japan. What brought that about?
After the Cool Deal record was finished by Red Light, we went to L.A. to have it mastered. We were also shopping for a distribution deal. With no takers and music moving toward the Seattle sound, it was finally sold to Sony/BMG Japan and only released in Japan.
Joker's Facebook page is loaded with archival photos and videos that could make for a most impressive reissue set of the band's complete discography, and I for one would be beyond thrilled to get my hands on such an outing. I spotted a few sporadic comments on Facebook that would suggest there has been some label interest in such a project, too. Could it ever happen?
We're in negotiations, but it's still too early to release any details.
If nothing else, do you have any plans to digitally release all of the band's early work via iTunes, etc.? The material is simply too damn good to be relegated to streaming videos on YouTube, and the original CDs are so tough to come by!
Yes, very soon our catalog will be available.
Judging from comments on Facebook, there are tons of loyal Joker fans who still recall fond memories of the band's heyday. It's clear that you guys worked very hard at writing, practicing, and performing live, and had every intention of taking the band as far as you possibly could. How would you sum up that initial run and what it means to you today based on how the cycle has come back around for Joker?
We fully intended to take it as far as we could. We thought big picture at all times. We had the time of our lives. Our fans were—and still are—our heartbeat! We gave it our all with tremendous support from them. That's why we're creating something special again putting together this show. It's going to be amazing. If you're a Joker fan, it will be an awesome trip down memory lane—with fresh, exciting things for the future of Joker.
***
Keep up with Joker on Facebook, and cross your fingers that a proper discography collection set is on the way! If you're in the Chicago area, tickets for the reunion show are available now.