...this is a group born of arcane collusion: lowering rather than lifting the veil on the subjectivity of truth.
It's been quite some time since I penned those words on Vegas, and I certainly couldn't state it any better today. To delve beneath the surface of this sage visage, there is no hand to hold, no light to guide. The burden is your own...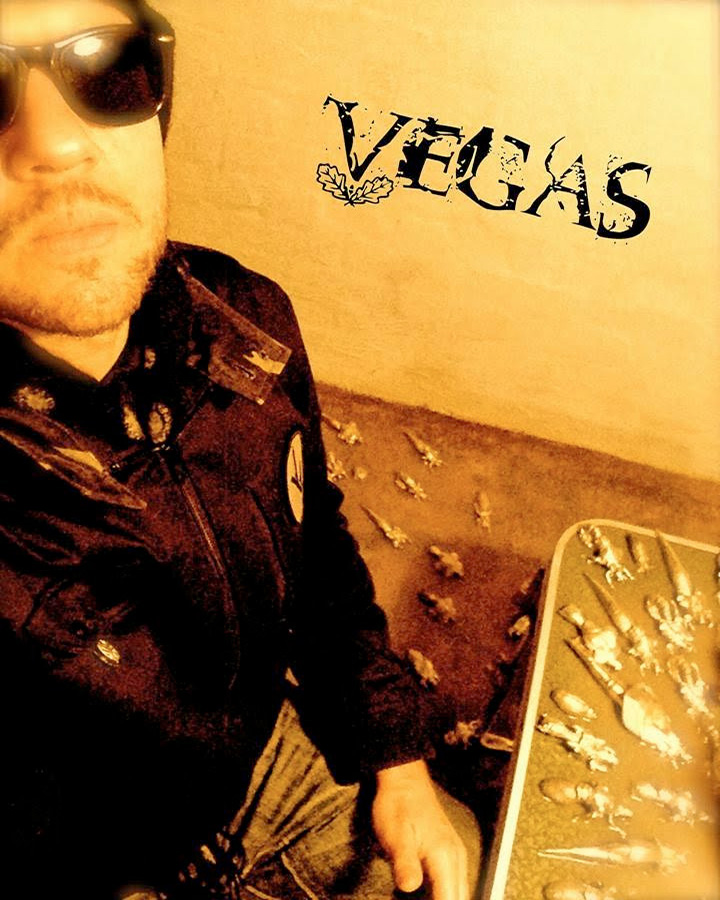 In preparation for this discussion, I was reading an old interview we had done from all the way back in 2002, and I was quite impressed by how specific and well-spoken you were in representing the band's ideas and creations, even in those earliest of days.
Thank you for the kind words. It was more your expertise in eliciting and understanding where I was coming from than anything else.
You're being too modest! Something we touched upon back then that I still ponder to this day is genuine mystique. To a rare degree, you've really managed to sort of combine darkness, deception, and humor in an honest and organic fashion.
I do not really find it mysterious at all—it feels like the natural way of doing these things. There is no prefabricated formula as to what ingredients Vegas should be composed of, or how it should be perceived. Everything band-related comes about organically, and there are some strong ideas as to what it should not be.
However, especially the newer emissions are results of a process akin to painting—in that multiple layers have been applied, differently-sized brushes have been worked with, and subtle references have been buried deep within the recordings. I do not think that the final product should be any different than it is.
That's part of what makes it so interesting, and why it's honest: because it simply is. It's "the natural way." Can you see it from the outside perspective? One of the numerous facets that makes Vegas stand out as a truly unique entity is a certain sense of intrigue. You do select your words carefully, and are precise in what you choose to divulge, even if it is instinctual.
I do not think the outside perspective has any place in the creator's world, as it is impossible to control the reception of your work. The only thing you can control is the experience of creating itself, and the work you create. Then you let go and move on.
Would you be willing to elaborate on some of these "strong ideas" as to what the band should not be?
Process of elimination. There is no fixed catalog of what it should not be.
Vegas has recently been issuing a number of extremely limited edition releases—from lathe-cut 7"s to special edition CD-Rs—some of which have been as scarce as just two copies. Does this make the music too challenging to be heard? Is that part of the intention at all?
Those limited editions are meant for the people who have been into Vegas all along. They are sought out and usually get first dibs on the releases. Most of the releases are personalized and contain new/unreleased recordings, or versions of songs that are not available anywhere else. The songs are mixed in a certain manner to bleed into each other, and the releases contain special inserts.
I quite enjoyed being a member of the Pushead fan club in the early-1990s, and was fond of the concept behind it—where the date you joined, your location, and other factors determined what releases you had access to.
Are these obscure limited editions at all a reaction to the current age of streaming music and information overload, where the ease and constancy of access has cheapened listeners' attachment to deeper connections within music?
I have never really been concerned with the reception of what I do, but I definitely do appreciate the fact that there are people who take an interest in it. Given the fact that Vegas will never be a "Fortune 500" band, it comes with the territory that every release is limited in some manner—even the "regular" ones.
In the information age we live in, where everything is available and accessible at all times, one should be happy that there is a modicum of interest at all, instead of examining how deep the emotional involvement of the listener is.
That's a healthy perspective, indeed. Since you do invest considerable thought and effort into your music, however—these aforementioned layers and "subtle references"—is there no inherent "value" in a listener that is more engaged? Is it really more about the creative process itself for you, and not how—or how widely—the end results are received?
The engagement of the recipients is not of importance. I am not looking to enter a dialogue. If the emissions resonate—great! If not, well, another case study that lends weight to George Berkeley's notion of the possibility of unperceived existence. For those harboring an intrinsic interest and motivation to scratch the surface, there is stuff to be found.
Some of my favorite Vegas material is that which branches out into the "neofolk" realm—"Fruition," "Time," "Irrealis," "Among the Shades," etc. Could you ever see yourself focusing on this niche for an entire release; or perhaps spawning a new Roses Never Fade-like project to explore that side of your work?
Roses Never Fade has been morphed into something completely different since Dwid and myself departed. I am not concerned with labels, such as "neofolk," and find it to be a particularly boring genre. I prefer German hip-hop.
Last year you had mentioned working on a new project with Dwid that was akin to the early incarnation of Roses Never Fade. Is that still on the table?
No.
I'm always interested in hearing others discuss the more unusual side of their listening habits. So discuss German hip-hop. And what else interests you? What's worth active readers digging into?
I like running, and try to listen to something new each time I pound the pavement. The new wave of German hip-hop—spearheaded by Dendemann at one end and Kollegah at the other end of the spectrum—is pun. Most rappers do not exactly give the Bard or Herman Melville a run for their money, but the word-smithery, lyrical prowess, and multidimensional application of double entendres in Kollegah's oeuvre is quite entertaining despite the stylistic confines of the genre.
Given Vegas' ever-changing contributors, locale, stylistic shifts, etc., what do the recording conditions look like these days?
I do not think that there is anything special to the recording process: file-sharing and home recording make recording easy and portable.
I guess what I'm getting at is, for example: are you ever recording in a German hotel room, or whispering vocals on a train ride through Vietnam, etc.? Is there anything about the circumstances that might act as yet another compelling layer in the aforementioned "painting process"?
All of the above. Whenever the muse strikes. Needless to say that the surroundings, moods, climate, etc. have more than a subtle influence on the end result. It becomes another instrument. An instrument with a character of its own, that makes its presence felt and has something to say to you. If you violate that, it's almost a sacrilege.
You seem to travel so extensively. I'm curious: how are you able to pull that off? Is any of the travel work-related, etc.?
I do not travel remotely as much as I would like to.
Could you discuss, then—beyond the obvious, perhaps—what it is about travel that is so important and fulfilling to you personally—be it intellectually, creatively, etc.? You've visited more than 50 countries, which is far more than most individuals will see in a lifetime!
Are you asking why experiencing new things, immersing yourself in different cultures, and getting out of your comfort zone is more fulfilling than celebrating Groundhog Day and experiencing the confines of the same old scenario on a daily basis?
Fair enough. You started writing a column for Scene Point Blank towards the end of 2014, and you're quite good at it. How did that come about, and what does the outlet offer you in terms of an alternate means of expression?
I have always been reading, writing, and have always had a keen interest in literature. The people at Scene Point Blank were so kind to offer yours truly a column, and I am contributing other bits and pieces as well. I have always been writing for music publications—fanzines back in the pre-internet days—mostly under pseudonyms, and have always enjoyed it.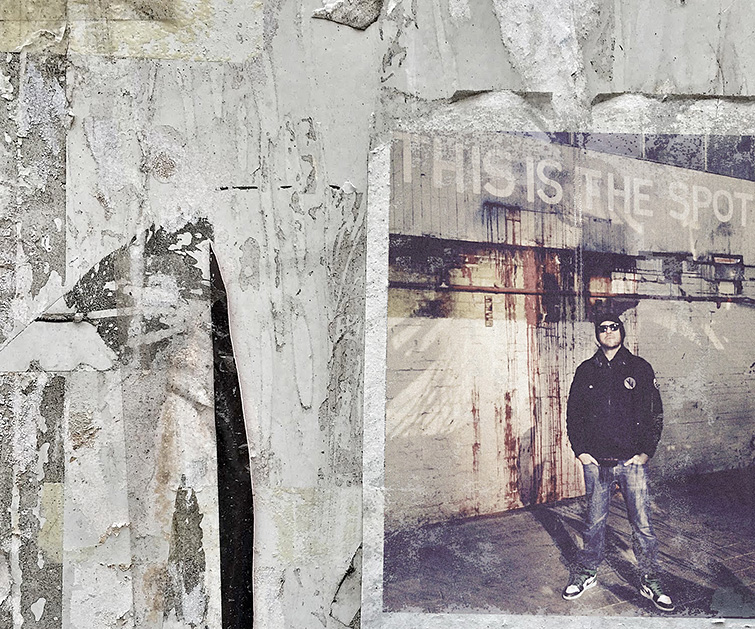 Would you ever consider expanding this writing into book form? A Rollins-esque(-ish) travelogue of experiences and revelations, perhaps? I mean, "There is nothing to be scared of and everything to do." That's profound simplicity right there. Inspiring.
Some of the essays that are published via Scene Point Blank are very condensed versions of chapters of a book I have written. I am working on a few things in that regard.
That's fantastic! Is there any other information you can reveal about such projects at this time?
There is lots of material I have written, and anyone interested in publishing is hereby encouraged to get in touch.
Okay. Let's change pace:
VV.
Creole jambalaya.
Philosophy.
Fill what is empty. Empty what is full. Scratch when it itches.
"Send Her My Love."
A li'l Motown, a tinge of Everly Brothers, and a grain of Zeppelin.
V.ariant E.xpressions G.ranted A.cronymous S.ymbolism.
Meaning corrupted.
Depeche Mode.
Twin town of Heiligenhaus. Aristotle might have had them in mind when he said that "the whole is greater than the sum of its parts." Palais Omnisport, Paris-Bercy, October 9th, 2001.
The doomsday dance.
Zauber der Karibik.
"Meaning Corrupted" 1, 2, or 3.
V.ariant E.xpressions G.ranted A.cronymous S.ymbolism.
Surreality.
The Dalí exhibition in Berlin does not do justice to the versatile and eccentric Spaniard.
Regret.
To regret deeply is to live afresh.
Thaw.
Brian Schroeder.
Something else I was curious about was that on the 7.17 compilation, Vegas covered the version of Integrity's "Fading Away" with the alternate intro several years before that variant of the track was released on the remixed edition of Systems Overload.
My love for Integrity is encoded in my DNA, weaved into the marrow of my bones. Integrity is one of the greatest influences on Vegas, and I know how much they mean to you as well. The track on the compilation was recorded from scratch.
Your unique friendship with Dwid even precedes his contributions to the Vegas demo, recorded in 2001. How would you describe the artistic consequences of this relationship over the years?
Without Dwid, his influence, and the things he has accomplished, I would probably not be doing what I am doing these days. I first met Dwid in the early-1990s. Before meeting him in person, I expected him to be troubled, thoughtful, aggressive, and defying people to like him. He was all of that, but also so much more. A blade that cuts at least two ways. His emissions—be they music, artwork, or lyrics—have been a constant source of inspiration ever since. A nimble and agile thinker with a tempestuous temperament who loves the jokes.
What's next for Vegas? Anything in progress? Goals you're still hoping to achieve? Will you ever do another full-length, or has the EP format been sufficing just fine?
A new and very limited lathe-cut is about to be released. There is always something simmering. An EP seems like an appropriate format to stimulate and annihilate. Goals are dreams with a deadline.
What has "sagevisule" grown to represent to you over the years?
The etymology of "sagevisule" goes back to you and your project, Never Presence Forever. Thank you for that. It has grown to epitomize the essence of everything Vegas.
I'm honored to have contributed in any fashion. I was surprised to see the term take a hold in this way.
"Escape the confines of your fate."
***
Fill what is empty via Bandcamp. Empty what is full on Facebook.