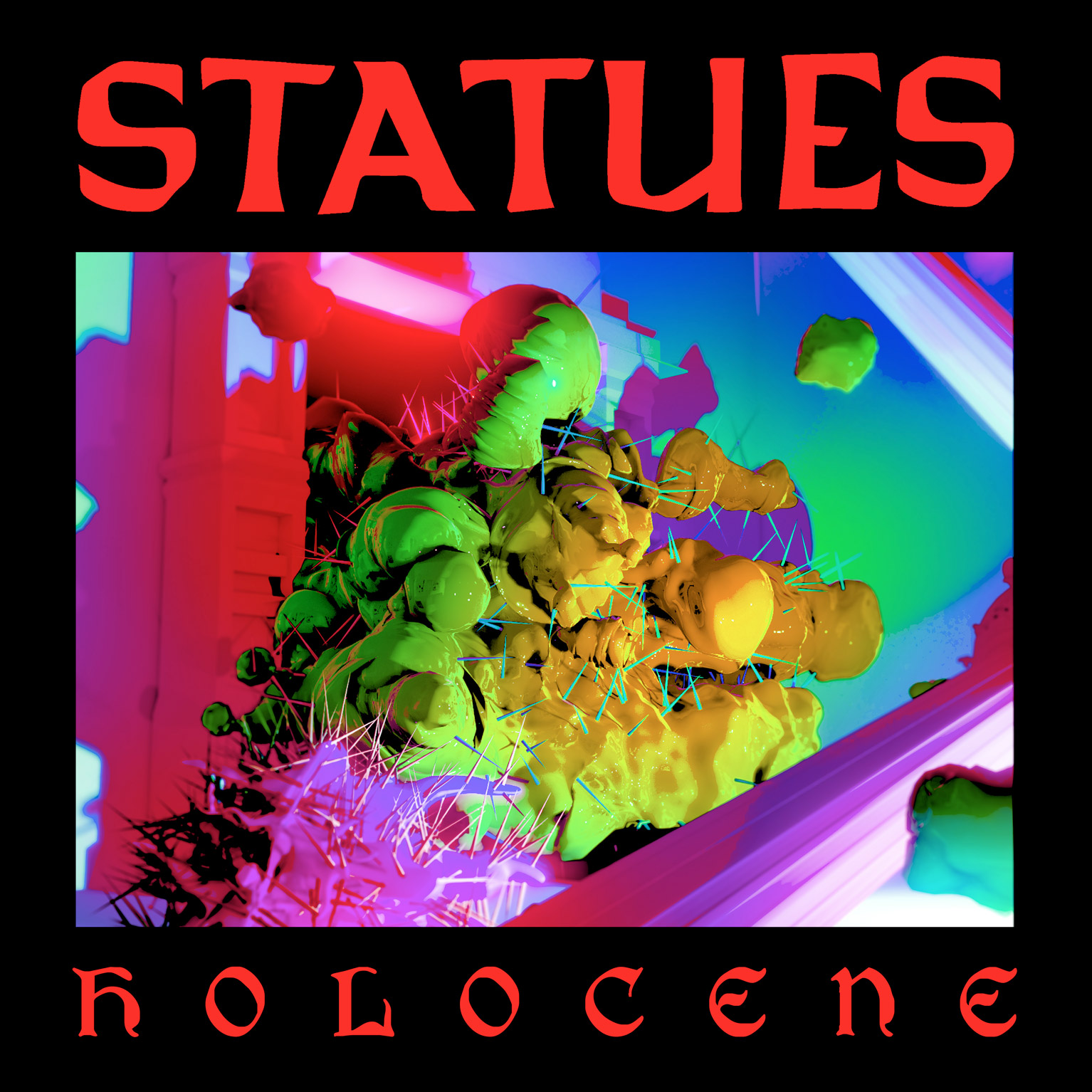 I first covered Umeå, Sweden's Statues toward the end of 2018, but have actually been following some of the members' work since as far back as 2001 when I was first exposed to the great Kevlar (a.k.a. KVLR). The good news seeped out earlier this summer that the trio is prepping the release of 11-song, 33-minute sophomore album, Holocene, for October via Lövely Records (pre-order now on CD or LP). I've previously referred to the group's work as "punked-up indie rock excellence," and can confidently confirm that the new material carries on in fine form. Expect gritty-yet-radiant guitar textures; energetic cracks of crisp percussion; centrally pounding bass runs; and immediately identifiable, one-of-a-kind vocal hooks.
If you missed opening gem "The Salt" back in June, take that for a spin after examining brand new single "Ending the Holocene" below, followed by a chat with the band...
It's been a little under two years since your Adult Lobotomy debut on Germany's Crazysane Records, and this time out you'll be working with Swedish label Lövely Records. How did that transition come about?
We have known Kaj Sivervik, who runs the label, for a long time. He and Patrik Lindecrantz (label co-owner) are great guys. We share a lot of the same ideals when it comes to music, we share the same heroes, and we just felt very in-tune with them when we started talking about working together. They also have physical distribution worldwide, which felt exciting for us in a digital world. Basically, they're just great guys and we feel very lucky to work with them.
Overall, Holocene retains the rugged and angular energy and songwriting style of the first album, but there are a lot of new textures and tonalities to the delivery, lending an almost post-punk type of undercurrent to the end result. Do you feel like you were consciously looking to introduce some new aesthetics into the mix with these recordings?
When it comes to the end product, we have always trusted our producer, Christian Ramirez, 100%. It's like we give him a bag of noisy shit and then he makes it work somehow. He also remixes or rearranges some of the songs. Like, we would get a mix back from him and the first verse would be gone, or he would mess with the structure and dynamics a lot so that we actually have to relearn the songs after he's done mixing them. We love that. So, it's almost like he's a member of the band. Many of those new textures and tonalities are his work.
The album was tracked in a mere three hours, which is pretty mind-blowing. To what would you attribute your continued ability to work so insanely fast and efficient!?
We found our formula early on when we started Statues. It just works for us. I'm sure we might lose something since we don't give ourselves time to second-guess our music, but we feel that we gain something else much more important. We follow our gut feeling, and since we don't rehearse that much it's always, like... if we make it through the whole song without stopping, it's a keeper. There are a lot of first takes on the album. I don't think we played any song more than three or four takes, and it just feels like there's a great energy in that. It wouldn't be fun for us trying to make things super perfect, it's not how we sound when we play together. So, when you see us live, it will actually sound like us on the record.
The new single being premiered today is "Ending the Holocene"—more or less the title track. Share a bit about this particular tune—be it something about the lyrical message, whether there was any particular inspiration for its musical direction, etc.
Musically, the song reminds us a bit of the Japandroids' first record with huge guitars, but after the mix it took a different direction. The bass really came forward, and that was really giving the song energy. The lyrics are about the industrial revolution and are supposed to create an image of foggy industrial cities at the end of an era when things go deep south. There is a goth feel to the lyrics.
The band apparently wrote a whopping 40 songs leading into the Holocene sessions, and it seems that at least a few of those extra tracks are going to end up on the Limited & Exclusive 12" EP associated with a Kickstarter campaign from Lövely's parent label, Gaphals. Talk a bit about how that 12" came about, and will it only be available through the Kickstarter, etc.?
We wrote a lot of songs before the recording of Holocene, and decided to record more this time to have more to choose from. Two songs didn't really fit the record, but they turned out really good. We first wanted to release them as a 7", but then Lövely came up with the idea of releasing this 12" instead as part of their Kickstarter campaign. We already had two covers recorded that we used to do live after Adult Lobotomy: "Bastards of Young" by The Replacements, and "World Class Fad" by Paul Westerberg. We also recorded a live session with guests, so the 12" will be meaty and varied.
It's still a couple of months before Holocene will officially hit the streets, but in these times of pandemic uncertainty, is there any vague notion of where the not-so-distant future may lead for Statues?
Playing live is what we miss the most, so hopefully the restrictions loosen up a bit. Playing in smaller clubs sounds like a dream today. We will keep doing digital stuff to promote the record. This record has better distribution than the last—and it's thrilling to know that people will be able to find our records all over the world—but playing shows in front of real people is what we want!
***
Out on October 30, Holocene is now available for pre-order on CD or LP. Also check out The Sign/Lövely/Gaphals - 10 Years Anniversary Kickstarter campaign, featuring Statues' Limited & Exclusive 12" EP. Find more from Statues through Bandcamp, Facebook, or Instagram.