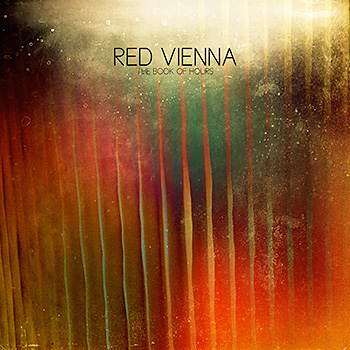 Released through the band's own Locust Hail imprint, The Book of Hours is the long-awaited (at least by me) debut full-length from Vancouver, British Columbia, Canada's Red Vienna. Their last EP dropped way back in 2011, with only a single for "Lights Out" (appearing here in re-recorded form) in between in 2013. But I've been all over this band since their debut in 2010. That first EP remains one of my favorite releases of the past decade, and solidified Red Vienna as one of the select few bands that I've followed closely during that time.
Their modern take on alternative/post-punk with a shoegaze edge is now gravitating away from the catchy energy of their early material in favor of consistently darker atmospheres, dominated by pulsing tempos that utilize a lot of excellently throbbing basslines and stripped down percussion—leaving plenty of room for assorted guitar textures to swirl in, out, and around alongside the generally soft singing. It's an approach that seems to have been increasing in popularity as of late, but Red Vienna is definitely operating in their own unique corner of this stylistic niche—relaxed and chilled out, ominous without being overly aggressive. There's a noir-ishness to it.
"Golden Dove" sets the tone early with a hammering bassline and becomes one of the heaviest and most doom-laden tracks herein—without literally utilizing a generically "heavy" sonic approach. One could argue that there's a weird thread of stoner rock buried in there, but, again, shunning the typical trappings. This moody sense of doom carries over into "Angel in the Grave," which is delivered with more subtlety and leads into a string of higher-energy cuts with a hint more zest to the tempos. The perky bass runs and staccato vocal arrangements in "Ghost," for example (an approach that returns later in "One More Hand"); or the driving rhythm and immediate catchiness of "Forty Eight Graves"; and the aforementioned "Lights Out," which delivers the hooks through a somber filter.
The vocals open up and soar a bit midway through "The Dead Lines," and I'd actually like to hear more of that return. Then again, you've got the super stripped down "Iceberg," which is by far the softest piece with its sparse, resonant percussion, barely audible bass, and chilling "ooooooh ooooooh" vocal harmonies.
As a trio, the recording feels fairly "simple," for lack of a better term (though there's nothing wrong with elegant simplicity), which is perhaps deceptive. There is some layering and panning, but nothing too crazy. They definitely experiment with a lot of different guitar textures, though—from restrained and barely distorted to bright, shimmery melodies to sparse fits of harsher attack. However, everything is very carefully mixed so that it never becomes overbearing—perhaps tied to the deliberate nature of the songwriting, which keeps the dynamic twists very gradual and easing. The feel is warmer than a lot of these types of bands, too. You feel blanketed by sound.
All of Red Vienna's releases have an outstanding visual aesthetic, but the digipack on this thing is just beautiful. The booklet includes one page per song, with brief excerpts of the lyrics from each alongside gorgeous imagery, rich colors, and clean, simple text. It's damn eye-grabbing, and a perfect match for the music—sucking you in with the same sense of eerie, cascading warmth, contrasted by the gloomy tone of the lyrics:
Open up a box and lay me in
Cross my arms and free my sins
Body filler, when I die
Mirror image, future life
While I do miss the infectious hooks of the group's earliest work, it has been a gradual transition towards this darker and more restrained Red Vienna, so I get it. And the band has been crafting fabulous material for five years now, so with the general vicinity of this "genre" picking up steam, I can't help but wonder how the hell Red Vienna has thus far avoided becoming "media darlings," even on an "underground" level!? Between the quality of the music and the high-level visual aesthetic, it would seem that all the pieces are in place, so maybe a wider audience will finally start to catch on now...
Get It