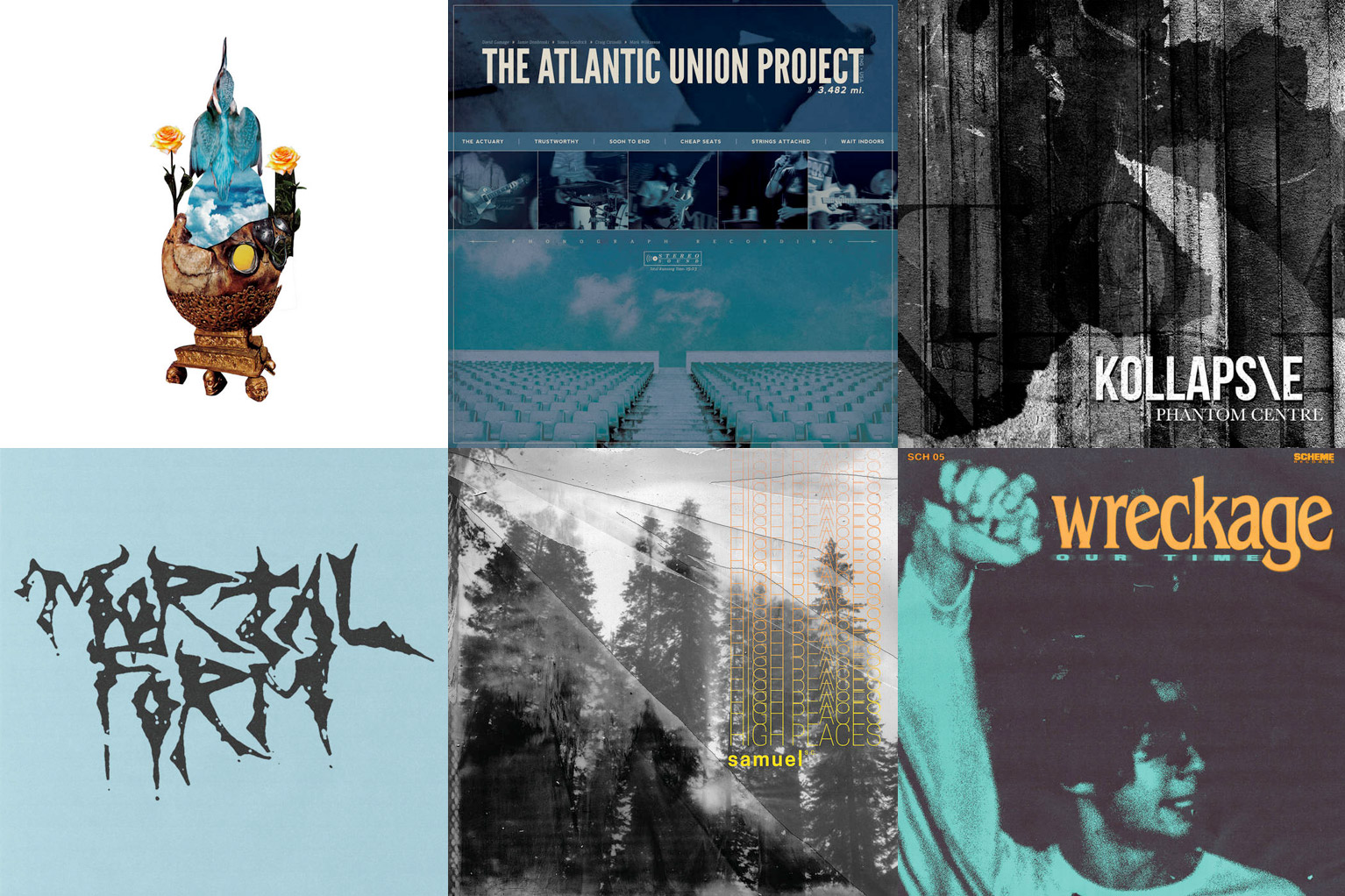 As the fact that my first post of 2023 is barely hitting before February might imply, I've been seriously unmotivated and slowing down a bit on new music so far this year. I'm trying to hang in there, so hopefully it's just a slow start and there will be much more to get excited about in the coming months. Here's a batch of tunes that've caught my ears in the past few weeks...
Ancient Teeth
Ancient Teeth is a Canadian project led by singer/songwriter Adrian Mottram (Sights & Sounds, Seas, etc.), though they landed on my radar because of the involvement of bassist Jahmeel Russell (Red Vienna, Projektor, etc.). The group's debut full-length, Deathbed, will arrive early next month, but damn near the whole thing is already streaming via Bandcamp, so treat yourself to some nebulously atmospheric—but catchy!—alternative rock with the lightest of post-rock characteristics and bright vocals soaring up above. It's an interesting take that walks a fine line between something that could be considered to have "mainstream" appeal, while staying rooted in an aesthetic/attitude that maintains credibility, if you know what I mean. Looking forward to spending some more time with this one...
Deathbed will be out February 7 on CD or digital through Locust Hail Productions. You can pre-order now through Bandcamp. Streamers, keep an eye on Spotify or whatever...
The Atlantic Union Project
Aptly-named, The Atlantic Union Project finds four musicians from the U.K. alongside a vocalist from New Jersey (who was once in a band called Elemae that I recently discovered through their split with Memorial). The U.K. contingent has been involved with a bunch of bands that I'm unfamiliar with—Come the Spring, Rydell, Strength Alone, to cite a mere few. From 3,482 Miles, expect an EP's worth of three-minute, post-hardcore-tinged alternative rock songs with an oomph of heaviness to the production. Memorable choruses, but nothing too polished. Not bad at all. I had never heard of this band until they followed me on Instagram, and I might've ordered a disc that same day!
I of course went with the pro CD-R in a simple, nice-looking digipak; but 3,482 Miles is also available as a gatefold 12" on sea glass blue vinyl through Engineer Records (CD/12"), Sell the Heart Records, and Shield Recordings. Stream on Spotify, if you must.
Kollaps\e
Helsingborg, Sweden's Kollaps\e returns with debut full-length, Phantom Centre, consisting of five new tracks plus the two from 2021's The Pandemic Sessions. As anticipated, the material continues to explore their tactfully expansive take on a "NeurIsis" form of metal that's equal parts crushing churn and spacious, melodic sojourns. I think I pointed out when I last covered the quartet that they focus solely on the strengths of this niche. I've grown quite intolerant of bland post-rock meandering, which is graciously absent herein—even instrumental pieces such as the eight-minute "Uhtceare" hold interest and are actually quite moving. Approved!
Tangible buyers, snag Phantom Centre on hyper limited CD-R or cassette from Trepanation Recordings, Evil Noise Recordings, or Clouded Mind Records. Those who stream, look to Spotify and the like.
Mortal Form
I believe it was An Attitude Exhumed who shared something on Instagram that brought Mannheim, Germany's Mortal Form across my path. The band has but one two-minute tune up for grabs at the moment, but what a burner it is! Groove-centric metallic hardcore with beefy rhythms, a dash of Mags-infused thrash, and—perhaps most importantly—strong vocals that actually have some identity! I've become one hell of a picky bastard when it comes to contemporary hardcore—so often soured by flawed production or lacking vocals, in my view—but this shit hits the mark. I need more!
For now, download "Greed" through Bandcamp, and peel thine eyes for a forthcoming demo through DBNO Records.
Samuel S.C.
Until recently, I had no idea that '90s punked-up emo/indie unit Samuel was back in action—now as Samuel S.C.—with a new full-length, High Places, slated for release next month. Apparently a good chunk of the material has origins dating back to the '90s, and the two tracks available thus far tend to possess a consistent aesthetic with the Samuel of old. Think angular emo/indie of the Dischord-ish ilk with a rockin' sense of energy that breaks outside the box a bit. I'll certainly be curious to hear the full album when the time comes.
Pre-order High Places on clear/black swirl vinyl via Org Music over at Bandcamp. Watch Spotify for the album to appear within a few weeks.
Wreckage
As mentioned above, I'm ridiculously picky about modern hardcore, so Connecticut's Wreckage didn't win me over right off the bat. But, I definitely picked up on some serious potential, so I kept coming back to Our Time and it did indeed grow on me. Seven tracks—all under two minutes apiece!—of generally traditional hardcore that keeps the energy high and starts to explore just enough of that Bold/Turning Point brand of heavy-yet-melodic and musically intriguing songwriting to stand apart and pique interest. This is about as good as it gets for "old school" hardcore post-2010, so I'll look forward to seeing how this outfit continues to progress.
Our Time will be out sometime in the spring on three different colors of vinyl (with bonus tracks) from Scheme Records (Merchpit in Europe). Hit up Bandcamp now for the digital, or stream on Spotify.