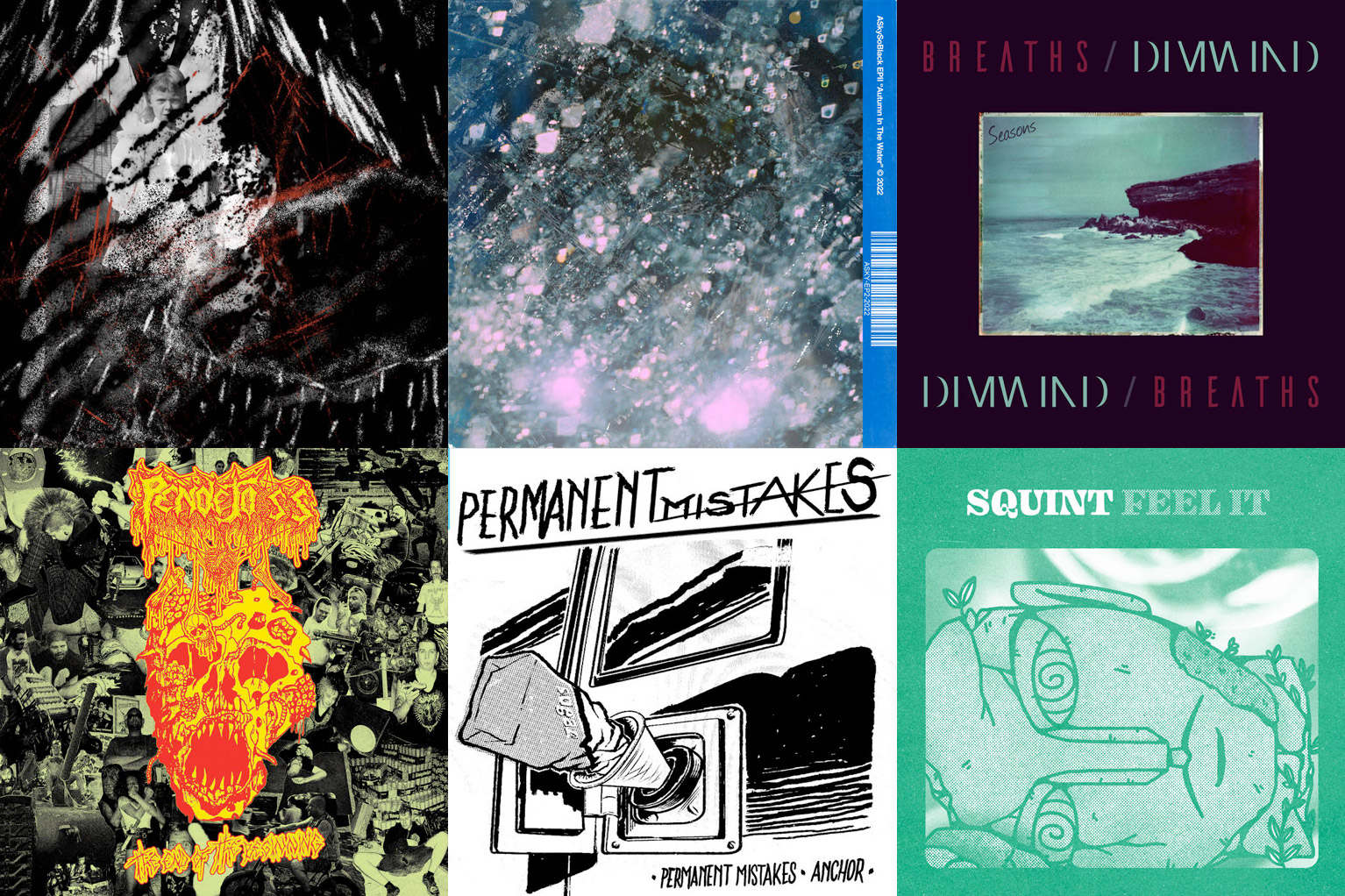 Anna Sage
It's been four years since I've mentioned Parisian group Anna Sage, but they're finally back with their self-titled debut full-length. If you remain in the dark, expect top-shelf discordant and chaotic yet controlled metalcore that should have fans of Converge and the like absolutely shitting themselves with joy. Kinda chunky, a little mathy, dissonant, ferociously intense, atmospheric—all the ingredients are in place, and delivered with ultimate force. With seven different record labels on board, this band must be starting to gain some traction, but it still feels like they should be more widely recognized.
Available on all three formats, Anna Sage is a split release between Dingleberry Records, Itawak Records (vinyl), Klonosphere, Season of Mist (CD), Urgence Disk Records, Vox Project (vinyl), and Zegema Beach Records (cassette/vinyl)—always cool to see. You can also grab CDs or LPs from the band. Everyone else, head to Spotify or check the streaming destination of your choice.
ASkySoBlack
I first heard Philly's ASkySoBlack late last year through a few hate5six videos and was intrigued by their debut EP. They've since hooked up with the generally great New Morality Zine for sophomore outing, Autumn in the Water, which is a definite step up in terms of confident performances and quality songwriting. Like so many bands these days, their style carries some degree of a grungy/gazey type of sound, but feels rooted in the "heavy emo" of the early/mid-2000s, combined with a Deftones-esque vibe. Dreary but catchy, surging energy but still somewhat restrained, etc. Really promising overall. I'd like to see this be one of those bands that starts to break through a little more, and certainly feel like they have the potential to do so. Good stuff.
Autumn in the Water is available on limited edition CD or 12" through New Morality Zine. Cheapskates and youngsters can stream on Spotify and all that.
Dimwind/Breaths
This split offers one 15-minute song apiece, centered around the idea of environmental destruction at the hands of humanity. Gothenburg, Sweden's Dimwind kicks things off with "Window Passed," where samples drive home the point about the general concept of the release amidst a propulsive form of post-rock/metal that in some ways brings to mind Aereogramme. If I'm being honest, "post-rock/metal" is kind of a dirty word for me, so I have to stress that this project—at least within this composition—operates in that space without being generic or disinteresting. Its heights even flirt with a blackened type of tremolo picking approach, which takes on a slightly different vibe in this context. Not bad at all.
Richmond, VA "blackgaze" project Breaths follows with "When Soft Voices Die," and I must say that right from the start, this song arguably fits that description more than any of the band's prior output. An interesting balance as dissonant, churning chords and fits of blasting percussion with snarled vocals give way to lengthy atmospheric breaks of shimmery guitar textures and lush singing that almost reminds me of Cynic in some small way—though of course that's not some sort of tech/prog indication. A nice, cohesive split as a whole.
Procure Seasons digitally through either Dimwind or Breaths; or on ultra limited edition CD (50 copies) or cassette (20 copies) via Trepanation Recordings. Stream through Spotify, etc.
Pendejo SS
I somehow came across this Pendejo SS album cover on Instagram and had to go look it up immediately. Turns out, it's not some revamped 1986 demo cover from an obscure thrash metal band, but in fact ragingly explosive, punk-infused grindcore from Israel circa 2022! Nothing but one- to two-minute songs here—occasionally unhinged and chaotic, at times reminiscent of a grindier Slayer meets Brujeria, and with a Municipal Waste type of attitude. Killer breakdowns, ferocious vocals... there's a lot to smile about with this one. And, come on, that cover art is just impeccable and totally nails the diehard aesthetic of this material. Two thumbs up!
The End of the Beginning is on Bandcamp, but there's no way this can be digital-only, right? Someone has to be working this up on vinyl, or at the very least cassette... right? Right!?
Permanent Mistakes
From Baltimore, seemingly out-of-nowhere project Permanent Mistakes features a bunch of scene vets—Dom Romeo (Integrity, Pulling Teeth, and many other notables), Chris Kuhn (also Pulling Teeth, etc.), Sebastian Phillips (Noisem), and Lucas Carscadden (extremely notable to me as an ex-member of the painfully underrated Sea Lilies)—cranking out somewhat snotty melodic hardcore that kinda-sorta crosses over into a rawer form of pop-punk. Think early None More Black, perhaps, but grimier. Every song runs less than two minutes—three originals plus a Marilyn's Vitamins cover—so this is short, solid, to-the-point, and I'm already looking forward to hearing more.
Two songs are streaming, but a digital or cassette purchase gets you downloads of all four. So, hit up Bandcamp rather than Spotify.
Squint
Squint, out of St. Louis, is about to debut with yet another damn solid new EP from Sunday Drive Records—a label that seems to have an uncanny knack for uncovering really quite good bands before they release much of any recordings at all!? In this case, expect a mishmashy melodic/grungy "hardcore" type of sound that very much brings to mind contemporaries like Drug Church and the like. In other words: methinks people are gonna be into this one.
Feel It hits the streets in full tomorrow. For now, you can hear two songs and pre-order a tape at Bandcamp (though very few copies remain). The same two tunes are on Spotify as well.