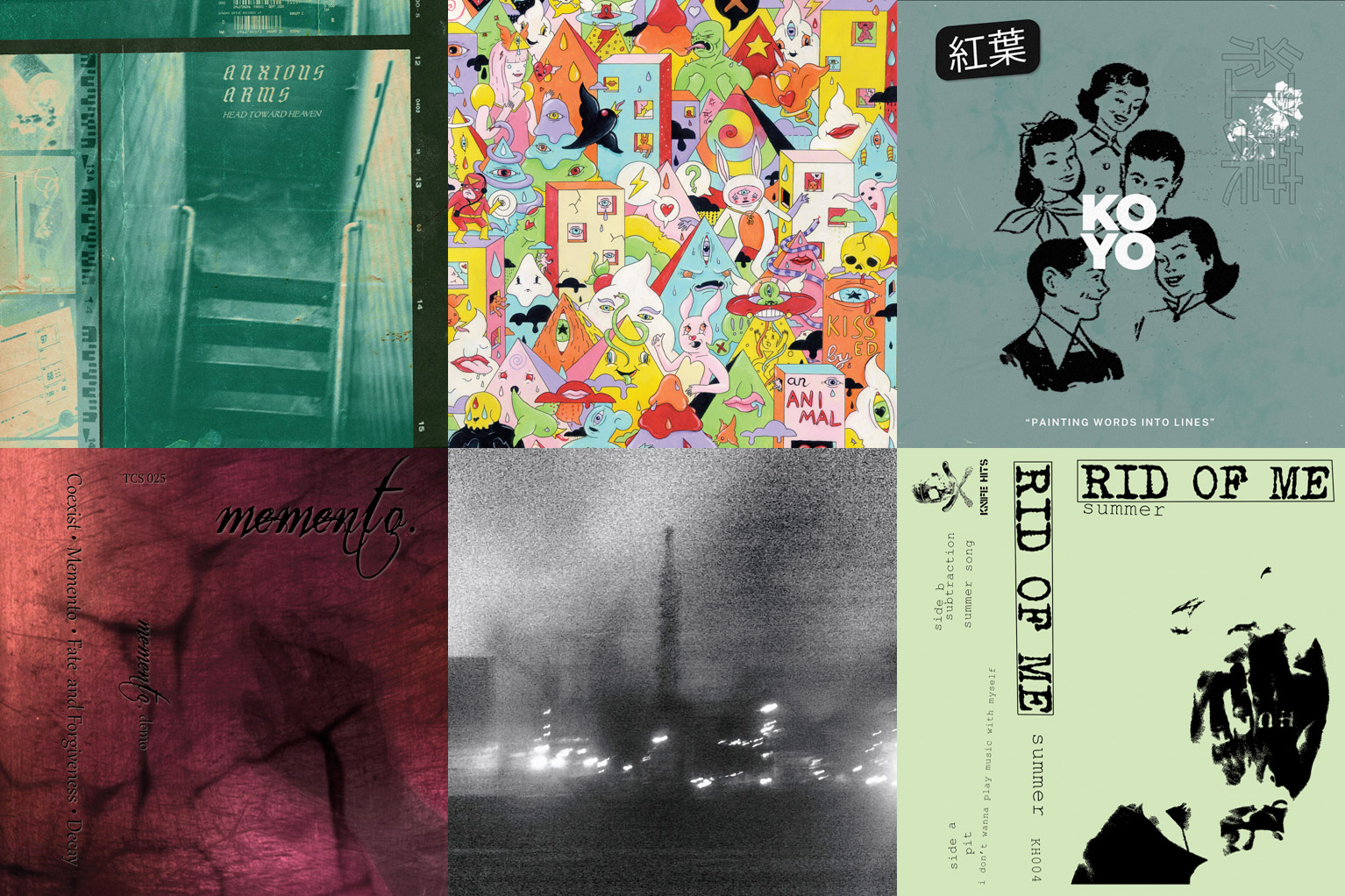 Another month, another slew of great releases landing on my radar. I really should've reached out to a couple of these bands for interviews or something, but... sometimes life just doesn't line up right. Next thing you know, you're stuck cranking out a batch of blurbs about a handful of bands all at once. Here they are, in alphabetical order...
Anxious Arms
Sacramento outfit Anxious Arms has apparently been releasing rather solid material since 2017, so I was stunned that they had never crossed my path prior to issuing their stellar new EP, Head Toward Heaven, which just hit the streets last Friday. The material reminds me a lot of the early- to mid-2000s, when there was a good chunk of bands that were kinda "emo," but way too heavy to actually be categorized as such. There's emo here, there's metalcore, there's grunge—and more—but you can't just put it in a box and wrap it up as any singular genre. Come to think of it, it's sort of in the vein of Cruelty of the Heavens—which is a mega compliment coming from me—but a little more aggressive and not as openly catchy. Solid vocals, beautiful cover art... I'm really looking forward to seeing the vinyl when it arrives. I'm thinkin' this is a likely contender for one of my favorite releases of the year.
Head Toward Heaven is available digitally or as a limited edition 12" (a scant 100 copies pressed) via Sunday Drive Records, or direct from the band. Streaming types: head to Spotify.
Kissed by an Animal
This 11-song album was released on cassette last year, and now gets the super slick vinyl treatment thanks to Handstand Records. Kissed by an Animal has been described as "the auditory counterpart to the universe of illustrator/musician Dima Drjuchin," and I must point out that the packaging/presentation definitely plays a huge role here. The vibrantly-colored gatefold sleeve is covered in wild illustrations that also extend onto the inner paper sleeve that houses the LP (pressed on thick, opaque light yellow vinyl), and even the freakin' download card is customized to the aesthetic of the release!? Musically, it's bouncy and fun but also carries a sense of underlying melancholy, too, I guess. Which, yeah, makes total sense in coordination with the spectrum of the artwork. Expect rugged-but-not-too-rugged alternative/indie rock that at its most energized and memorable brings to mind Dinosaur Jr. (musically, not vocally), but covers a range of styles and influences within that general niche of jangly and quirky sounds. Very nice.
Grab an LP or cassette from Handstand Records through either Bandcamp or their webstore, or find the tunes on Spotify if that's your kinda thing...
Koyo
Long Island's Koyo put out their debut EP, Painting Words Into Lines, last month and it's a thoroughly enjoyable batch of heavy melodic hardcore tunes with some great vocal harmonies and hooky songwriting. I don't hear this sort of thing too often anymore, so—like Anxious Arms above—this brings back fond memories from the early-2000s when other Long Island greats like Taking Back Sunday and The Movielife were at their absolute best. It's obvious that there are some tried and true hardcore influences happening behind the scenes, but the delivery has more goin' on, so there's nothing boring about it. It's not like they're completely reinventing the wheel or anything, but great songs are great songs, and they're following in some pretty stellar footsteps here. I'll be looking forward to hearing more, definitely.
I thought this was a digital-only release, but when digging around to put this post together, I discovered that it's actually available on CD (yes!) through Reconsider Records and 10" from U.K. imprint The Coming Strife. Oh, and Spotify, of course.
Memento.
Memento. is a quintet out of Orlando, FL dishing out a late-'90s/early-2000s style of metalcore that's extremely underrepresented these days. The songwriting is of the emotive and explosive variety that brings to mind a less technically complex Misery Signals with dashes of the rugged energy of Aftershock or early Killswitch Engage. In a quick interview with No Echo, the band cites 7 Angels 7 Plagues as a significant influence, which definitely makes sense. At this point, it's refreshing to hear a contemporary group effectively exploring this form of melodic, metal-centric hardcore, so hopefully they won't be one of those bands that demos 'n' disappears, 'cause the world could use some more of this...
The demo was released on limited edition cassette by U.K. label The Coming Strife, and might still be available from the band, but I had to dig to even find that link, so... who knows? Otherwise, Bandcamp or Spotify will have to do.
Phantom Hymn
It's been almost a year since Phantom Hymn debuted with a two-song EP, and the solo project out of Portland, OR has now returned with a 10-song full-length that continues down the path of ragingly powerful metal-tinged hardcore/punk first tread by His Hero is Gone/Tragedy. The production is a little rawer this time out and actually sort of reflects the misty haze of the cover art, but while I do miss a little bit of the dense punch from the EP, the songwriting is still excellent. There's plenty of melody and energy, so the speeds never feel dull, and the shifts toward more plodding tempos never drag too far. There are even a few scathing blasts that start to lean into a black metal sort of aesthetic during tracks like "Lips of Wisdom."
I'm not seeing The Future as Nightmare on Spotify yet, but it's a name your price download on Bandcamp. Seriously, though, where are the labels that might be down to assist in a physical release here!? Try as I might, my reach is limited, people, so... if you like what you hear, help me out and spread the word! The domino effect falls flat if you don't keep shit movin'!
Rid of Me
Last but far from least, Philly trio Rid of Me includes current and former members of Low Dose and Fight Amp, and since Low Dose rules—having released one of my favorite albums of 2019—I pre-ordered this sucker as soon as it hit Bandcamp. It seems like this band came together super quick and seemingly outta nowhere: the four-song EP was recorded back in February and the cassette landed in my mailbox earlier this week (it's officially out today)!? If you enjoyed the Low Dose album—and you damn well should've—you won't be disappointed here, as the results are not really all that different. Gritty and hard-hitting noise rock with powerfully unique vocals that covers a range of atmospheres and emotions, wavering from more pulsing and energetic to looser and more grating. Rid of Me might be ever-so-slightly rawer than Low Dose (make no mistake, though: the production sounds fuckin' sick), and being a trio the material just breathes a little differently, but... it's pretty much impossible to like one but not the other. These folks are just on it. Damn. So good.
Grab a tape or a download from Bandcamp, by way of Knife Hits Records.