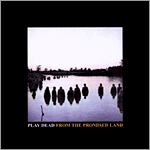 In no way, shape, or form am I capable of holding much of an intelligent conversation about classic "goth" acts (Is that even what you call bands like this?), but I definitely flip out over that stuff on the rare occasion that I stumble upon it done right. And that's damn sure the case here. Play Dead started out in England in the early-80's and amassed a rather sizeable discography by the time they folded in 1986. I was first exposed to their work a little over a year ago when I downloaded this incredible mix and was blown away by "Pleasureland" (an absolutely amazing tune, seriously), so I bought most all of their output shortly thereafter.
"From the Promised Land" is their second full-length, originally released by Clay Records in 1984. Much of the material is driven by dense, plunky basslines with winding guitar riffs and half-yelled/half-sung vocals, but maybe this stuff gets a little more aggressive than other "goth" bands? I don't know. It's definitely a little different. Perhaps somewhat darker and less immediately "catchy". Hypnotic. I can't very accurately describe the music here, so I'm not going to try that hard. As always, you can check 'em out for yourself and come to your own conclusion. I'm just trying to steer you in the right direction! I don't really understand why Play Dead isn't talked about just as much as The Sisters of Mercy, though. They probably have a cult following or something, but clearly the band is painfully underrated, seeing as I can't even find my favorite songs from this album on YouTube or anything. That being said, there's an extremely detailed fansite out there (even if its design still reeks of the mid-90's internet) where you can download the original mix of this LP (scroll down just a bit for the details/mp3's for "From the Promised Land"). Apparently the band was unhappy with the first pressing of the album, so it was tweaked, remixed, and re-released after the initial pressing of 1,000 copies. I'm not sure I agree, though. Both versions are quite good, but the muddier, more bass-heavy atmosphere of the original really adds to their aesthetic quite nicely.
Honestly, their third and final album, "Company of Justice", is even better, but the song "Pleasureland" is what introduced me to the band (and remains my favorite of their tracks), so I'm writing about this one! That being said, "From the Promised Land" is actually the hardest of their albums to find. Their other full-lengths are available digitally, for example, but not this one. Go figure!? There are some vinyl copies on eBay, and it's been reissued on CD with bonus tracks a couple of times (in one form as "Resurrection", which for some reason doesn't include the track "Weeping Blood"), but those are increasingly rare/somewhat expensive, too. It's a mystery and a shame, as this album should absolutely not be lost to obscurity...
Get It
Amazon.com ("From the Promised Land" CD)
Amazon.com ("Resurrection" CD)
I'd definitely be interested in hearing recommendations for other good bands of this style as well. Obviously my knowledge of this niche is very limited, but I'd love to hear more. Thanks!