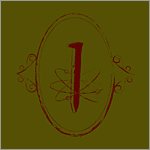 The last time I wrote about Parallax's "Mediums & Messages" was in 2009 (and it's rightfully become one of the most popular posts in the blog's history), so this makes three. The occasion being that Kitchen Now! Records is reissuing the long out of print CD on vinyl, and for its release the band is actually playing one final show (a benefit for the Blake Donner memorial scholarship) this coming Saturday, December 17. They'll be performing with vocalist Jeff Jensen, who sang on their final three (sadly unreleased) recordings, and opening up will be The Hi-Fi Massacre and Despite Despair. The show is taking place at Muse Music (151 North University Ave. in Provo, UT) around 8:00pm and will cost a mere $6. If you're in the vicinity, you should damn sure go. If I wasn't 2,100+ miles away, I do believe I'd be there myself. The LP will be for sale at the show, and it's packaged in a matte gatefold sleeve with new artwork, all of the lyrics, brief explanations of the tracks, etc.
What follows is essentially recycled from my previous write-up, 'cause my feelings about this masterpiece (which has basically cemented itself as one of my all-time favorites) haven't changed a bit, and there's no way I could express myself any better now than I did over two years ago...
I first encountered Parallax in early-2004 on a mediocre compilation, but later that year they officially blew my mind with their "Widely Unknown Indeed!" demo and the "On Dead Tracks" 7", which showed the band's true power and potential. There's no doubt that there truly are a number of messages within the Parallax medium, and that medium is one that showed consistent progression time and time again, making "Mediums & Messages" all that I ever hoped it would be in terms of improved sound quality, tighter performances, more dynamic songwriting, etc.—so the overall impact of the material is overwhelmingly intense and emotional (in the best possible way). It's "contemporary metalcore", yes, but it's that rare breed of such metalcore that operates on an entirely different level of magnificence that so few bands could ever even dream of reaching. In the past I've compared elements of Parallax's music to both Shai Hulud (one of my favorite bands of all time) and Misery Signals, which are no small compliments coming from me, but Parallax was among the select few able to harness a frenzied sense of chaos that's jammed with so many powerful riffs and arrangements that they really take hold of the listener and refuse to let go.
I still listen to this album quite often, and I also still regularly think about the band's vocalist, Blake Donner, who tragically passed away in August of 2005, about a year before "Mediums & Messages" was released—never even getting the chance to hear the final, mastered material. I never had the pleasure of meeting Blake and had only encountered minimal communication with the band during their early days, but his death has absolutely had more of an impact on me than any other musician. While it's probably far from the reaction that someone like Blake would desire, I'm not a "look on the bright side" type of dude, so I can get really bummed out and depressed when I think about what this band's music means to me and realize that someone who played such a large part in it is no longer out there. I'm one of those people who overthinks everything, and here was a guy several years younger than I who passed away while simply trying to experience life—someone who was known to be a generous and caring individual with an admirable outlook on life. Fucked up situations like that where there's just no sense to be made really dig at me, and it makes some of the song explanations for this album (which were written by the remainder of the band) hit that much harder.
I never express myself as well as I'd prefer with shit like this, but I do still truly believe that Blake would be pleased to know that his work continues to inspire others in his absence, and it always will...
Parallax "Momentum"
Parallax "Contemplating the Contemplated"
Parallax "Surgery Without Sutures" *
I'm not aware of any online purchasing options for the LP yet, so contact the label via the Facebook link above if you're interested in getting your hands on a copy. It's great to see this gem getting another shot at reaching new listeners, and I again encourage you to seek this out if you've been missing out on Parallax for all this time.
*The lyrics and vocals on this track were contributed by former Trial frontman Greg Bennick, and while I initially didn't particularly care for this song, it's really started to speak to me over the years. Despite having been written/performed by someone that wasn't a Parallax member, it perfectly sums up the types of thoughts and feelings that this album as a whole represents to me... the types of thoughts and feelings that come to mind when I think of Blake and his passing... the types of thoughts and feelings that fill me on a regular basis, just dealing with... life. Get the lyrics and read more about this song here.