Having collaborated with Vegas since the first half of 2016 on some of the group's most interesting compositions to date, the name Ogirdor Zul may be mildly familiar to some. What you may not know, however, is that—perhaps contributing to the relentless intensity and curious diversity of his work with Vegas—Zul is/has been involved with no less than eight different bands (and his own record label) over the past six years or so. I had to take the opportunity to learn more about this enthusiastic musician's many creative outlets...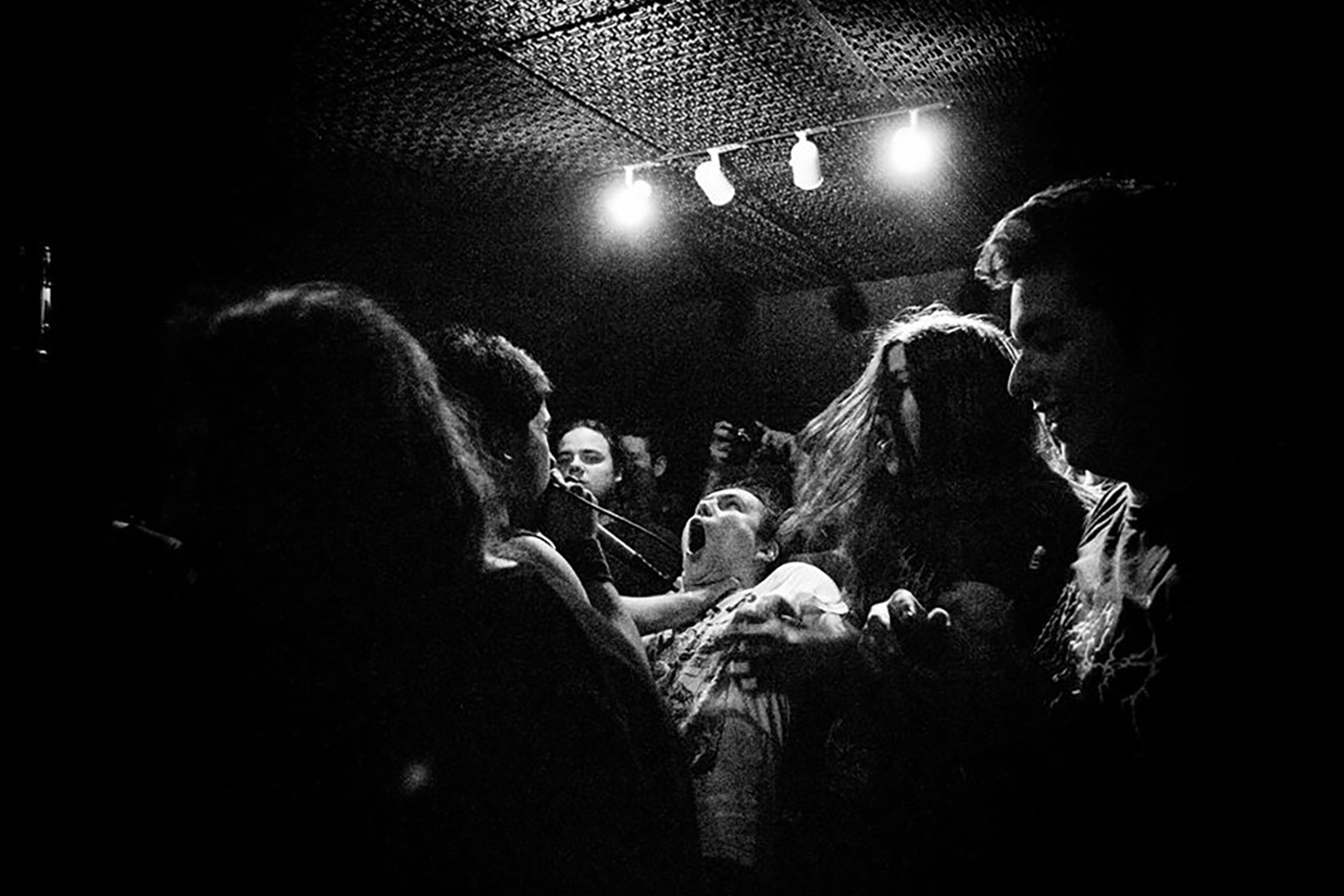 When did you first start getting into "extreme" (or "underground") music, and what were the bands/albums that were capturing your interest at that time?
Damn, my first experience with extreme and "underground" music was when I was a child, ripping the Mortal Kombat movie soundtrack CD to a tape. That was my first contact with bands like Napalm Death, Gravity Kills, Type O Negative, and such. But the track "Zero Signal," by Fear Factory, left a great impression on me. I never thought something so heavy could be also so melodic and huge, this track always mesmerized me.
Later, I had my normal fix of teenage rock, you know: your Slipknots and Linkin Parks. But I think in 2005 or 2006 I had my rediscovery in music with some MTV shows focused on metal, and also the public TV program Radar, which showed a lot of local bands playing live on TV. This allied with the access to DSL internet sparked my interest to discover more about bands, so I searched for label pages, music genre Wiki pages, online forums, etc.
Throughout your discography you've been credited with vocals, guitar, bass, drums, electronics, etc. What led you to become a self-sufficient multi-instrumentalist?
Well, since I recorded the Fallout EP with Shade of Mankind, I tried to have the most creative control I could have. So, with the wonders of home recording and digital audio workstations, I've learned to program drums and record most stuff by myself. The next step is trying to really play drums someday [laughs].
Was Shade of Mankind your first band?
Actually, no. First I was the vocalist for Days of Decay, a short-lived metal/hardcore act. We played just four shows and after that I created Shade of Mankind.
Shade of Mankind formed around 2011 and has since evolved from a grinding crust punk sound into more of a blackened death/punk style, and from what you've told me the group's new material is progressing further still. Talk about Shade of Mankind's diverse range of influences and how the band's music continues to grow...
Yes, during the first years the project was more focused on crust and grindcore, mostly due to my technical and musical limitations. As time went by, I got some recurrent members—like the drummer, Yautja, who is with me in the band since 2012—and the rest of the formation came by around 2013, before we finally stabilized it around 2014.
Aesthetically, I was very inspired by holy terror bands like Vegas and Integrity, along with various bands of other spectrums of music like Column of Heaven, Full of Hell, Celtic Frost, Koreisch, Eyehategod, and many others. In We are the Plague you can see all those varied genres: there are tracks flirting with noise, powerviolence, grindcore, death, and black metal. Since most of those songs were written mostly by me and Yautja, the other members added their little touches—especially Twiggy (our guitar player)—which helped in the recording and production of the record. I used to call this mix of genres and extremity something like "audioviolence."
In 2016, I decided to fill the vocal duties and also play guitar, and now we're more focused on an extreme metal direction. All of us are very into the more dissonant and dark side of the war metal scene, and abyssal music like Heresiarch, Portal, Altarage, Diocletian, Deathspell Omega, Portal, and Akercocke. I've picked some outside influences from other genres, too—especially singers like Scott Walker, whose later albums inspired me to do new experiences as a vocalist, and you'll see the results in our upcoming album.
I think we explore new extremities in our upcoming music. First, it was a more sonic and aggressive approach, now we're toward a more atmospheric and oppressive way of sounding. But still we use our musical and visual identity, not much changed in our core, but the ways we use to intimidate with our music are definitely different, and we have a range of options of how we execute this.
I am Nihil was another of your earlier projects—a somewhat short-lived solo outing that explored more unusual sounds in the realms of neofolk, dark ambient, experimental guitar drones, and so on. What can you share about I am Nihil?
I was passing through some personal turmoils and depression at that time. This project was a way to explore my more melodic and experimental side, along with being a "therapy" for me. The first records were more focused on a mix of neofolk, lo-fi music, and shoegaze. Then, I started to write and improvise more ambient-like tracks, until I felt it was enough for me. Maybe I'll return to making this kind of music someday. I had some friends and people who really felt identified with the mood of the project.
You also fronted Viruskorrosivus from 2012 - 2016—a somewhat straightforward and fast-paced hardcore/punk outfit made a bit more extreme by the intensity of your vocals. This band just released its final EP about a year after breaking up. What's the basic story of Viruskorrosivus?
Viruskorrosivus is a very interesting story. The band was formed by João Carvalho and Michel Munhoz (the latter was a member of classic local bands from here, Damn Laser Vampires and Gritos de Alerta). I had contact with Michel and tried an audition since they were searching for people to fill up the vocal duties, so I did the audition and then they decided to put me in the band.
It's interesting that you've mentioned the extremity of my vocals. At first, the band was going to be more oriented to the crossover and hardcore side of things, but my vocals were more fitting to a rawer style, so I've brought up some crust and metal influences because of that. At the end, the project was our love letter to the fast-paced, intense, and raw ways of what hardcore punk meant to us. We've played with old school NYHC, Japanese punk rock, the Scandinavian and Brazilian raw hardcore, and also a bit of the dirty side of the crossover thrash of bands like The Accüsed and old Corrosion of Conformity.
We played a lot of shows during 2012 to 2014. In 2015, we released our first album, Prolongado, Progressivo e Incurável, and did a very fast and great tour in São Paulo with our friends, O Cúmplice, and met a lot of bands there. All those years were a great experience as to seeing things as a musician, but also meeting new friends and expanding my mind by interacting with such different artists, places, and people.
In 2016, I was more interested in other things and talked with the band that I was planning to leave after some shows were booked. The Eclipse EP was actually meant to be only my swansong with the band, but sometime after the recordings, every member went their separate ways focusing on other projects, so the band kind of entered into a hiatus on its own.
In 2014/2015 you issued a small handful of crazy digital-only releases as Pense Bem 1000/1 that sound like an experimental mishmash of sampled and manipulated Brazilian pop music. I have to ask what was going on with that unexpected project!?
I'm very fascinated with AOR, Italo disco, house music, and some cheesy Brazilian funk and pop music. Mixing that with the interest I was having with the vaporwave genre, I thought it would be fun to make a vaporwave version of various songs I love and fit with the whole vaporwave culture. I've always felt this project is more of my musical "vacation," where I just have fun toying around with songs I really love and making little remixes and twists to them.
I'll have to take us on a brief side tangent here and ask you to tell me a few of your favorite AOR or "cheesy Brazilian funk and pop" songs. I'm a huge fan of the self-titled Marcos Valle album from 1983, for example, so I'd love to check out some of your recommendations!
Marcos Valle is very famous in the U.S. and Europe, from what I know. Vontade de Rever Você and Previsão do Tempo are some of my favorite albums of his. Brazil has very rich and varied musicians and artists that I could recommend and talk about, but this would turn into an endless rambling, so I'll focus myself a bit [laughs].
Well, there's not much of an AOR or funk/soul/R&B scene in Brazil that shares much similarities, maybe it's the tropical vibe and references. There are very good YouTube channels with a nice music archive of this side of Brazilian music. But still, there's a lot of very good and interesting music to be heard, so here are some of my tips:
Cvlpa formed last year, and you handle guitar, bass, and vocals for this group. Cvlpa shares some sonic similarities with Shade of Mankind, offering more of a streamlined, pounding, and midpaced take on blackened hardcore/punk.
Well, since I was working with Vegas, and Shade of Mankind was going to the realms of metal in its most extreme forms, I was missing a bit of the rawness and cathartic feel of hardcore punk. So, I recorded a demo for this project, focusing on a mix of mid-'80s American hardcore with first wave black metal. The idea was to mix the Cro-Mags and Life's Blood with Venom and Bathory.
I showed the songs to Cauê (the guitar player for O Cúmplice), and he showed interest to participate, so we've been collaborating and throwing some stuff at one another. We're working on this metallic hardcore style more focused on a retro perspective, recording some songs and having fun with it. But this year we made our first live presentation at the Black Embers Fest with members of groups like Surra and Fim do Silêncio filling up drums and bass.
We had a blast rehearsing and playing live, so we've been talking about playing this into a more full-time project. Since almost all of the band lives in São Paulo and I just need to travel there, at the moment there's some new material in the works, but not much that I can spoil.
We haven't really discussed lyrical themes yet. For the groups in which you're the vocalist or primary lyricist, how would you classify the subject matter and/or how the topics might vary from band to band?
Well, it always changes from project to project. Viruskorrosivus songs were mostly about things like the scene, some political issues, and also some short stories with a bit of Poison Idea's influence.
Shade of Mankind is more focused and inspired by apocalyptic themes, cosmic horror, and such. Also, some recent lyrics I've been writing deal with deconstructing the typical "nihilistic" metal formula, which sounds more like an elitist in Nietzsche's clothing. There were also your fair share of true grizzly events lyrics and such, but now I think we're dealing more with a philosophical horror approach, since everybody in the band is writing lyrics to one song at least.
Cvlpa—as the name implies ("gvilt" in Portuguese, 'cause you know, kvlt aesthetics)—deals more with personal turmoil. But recently I'm reading a lot of sci-fi/horror short stories by authors like Harlan Ellison, Robert Bloch, Henry Kuttner, and others, which I think will play a more influential role in how I write some future lyrics. I've always thought of doing something like a "pulp fiction/noir" style of lyrics and themes within hardcore punk. I don't consider myself a well-versed person to write political songs, but also the P.M.A. and backstabbing stuff never pleased me, so more existential or abstract themes always fascinated me, hence my approach with bands like Integrity, Vegas, and such...
Yet another interesting entry on your impressive résumé is that you're now playing bass for long-running Brazilian hardcore outfit No Rest. How and when did you join up with them, and when might we hear your recorded debut with the band?
This one was kinda funny. I'm good friends with Aline [Rodrigues, vocals] for a while. Normally when the drummer, Santiago (who lives in Germany), comes back to Brazil the band plans some shows and tours. At the time, they didn't have a bass player, so Aline asked if I was interested to fill up the bass and make a tour with No Rest. It was a very challenging duty, since I had to learn like 25 years of a band in less than two months, and they also didn't rehearse or play together for more than three years, so there was a lot of catching up to do. But everything worked out fine and the tour was a blast. After the tour, they asked if I'm still interested in playing. Since they don't play very often, I am down with some adventures when I'm called for playing. As for recording new songs, who knows...
This of course brings us to one of the most obvious topics of the interview: Vegas. I'd love to know how you came to be involved in working with the ever-mysterious T?
Well, I first called T since I was interested in putting out a limited release for Vegas on my label, Psychic Rebellion. Since the whole thing worked out pretty fine, somewhere around last year T asked me if I was interested to record a song for the band. In the first moment, I was amazed, since Vegas is one of my favorite bands and these are big shoes to fill.
I remember I was very nervous while writing my first collaboration with the track "±," but T was satisfied with the song and I pitched other ideas and now it's been a year that we're working together creating new stuff. It's pretty crazy to think about. It's not every day you have the chance to work with one of your biggest influences.
Recent batches of Vegas compositions to which you've contributed are as diverse as ever, and I personally find some of these tracks to be amongst the band's strongest to date. What does the songwriting and collaborative process look like these days? There has been a fairly constant stream of output as of late!
Thank you very much for those words, it's been very good to know that a lot of VV fans are digging the work the band is putting on. Normally the composition is your typical file-sharing and pitching of ideas, but since me and T have some similar ideas and approaches to a song's structure, we try to work with different influences and ideas that would be interesting to use—without losing the bone marrow of Vegas. It is very aggressive music, but there's a dark glamour and charm about it...
Just out of curiosity, do you recall when you first discovered Vegas, and what attracted you to the band's material before your own involvement?
Damn, I don't remember exactly the date, but when I was first approaching the holy terror mythos, I remember having a bit of a struggle trying to find some of the bands' material. When I first heard Never—the vocals, the punkish riffs and drumming with that metal edge, the layers on T's vocals, the elusive nature of the band's aesthetic and lyrics—all of that attracted me instantly.
Later, seeing T interviews and having chances to talk with him, I grew more respect and admiration for what Vegas is and all of its characteristics. This mysterious nature—along with the controlled chaos and rawness of the music, and its feeling of a decadent glamour—is pretty haunting and charming.
I didn't realize you were also behind Psychic Rebellion. Aside from some of the projects we've already discussed, you've released CD-Rs and cassettes for groups like Beast as God, Mankeulv, etc. Talk about the label and its current status.
Psychic Rebellion was made with the idea to help different artists, since there's not many Brazilian labels focused on this more dark and weird side of music, and I like the appeal of very limited releases with special packaging. At the moment, the label is pretty slow—especially because most of my sales come from outside of the country and the shipping prices are not very helpful due to the economic status of our country. There are some releases and new plans on the horizon, but I'm focusing on selling the material of our distro and the Vegas releases, creating more publicity around Brazil. Maybe we'll have some pretty nice news at the end of the year, but nothing I can talk about at the moment.
We've touched upon eight different bands across just six or seven years so far, and I know you're constantly listening to and exploring new music, so I wouldn't be surprised if you still had additional projects (or at least ideas) in the making! I think that's all I've got for now, though. If there's anything else you'd like to share, certainly feel free...
Damn, only six years. Sometimes when I look back, it's kinda shocking to see all that I've done in such a little span of time. It's something I don't stop so much to think about, but when I do, I feel even a bit freaked out about how I pulled all that off [laughs].
Yes, there are new projects and bands on the horizon. I know that I am a very hyperactive mind on the creative spectrum. I like to do the music that I would like to hear and that I don't feel is out there. Maybe the interest in music is in my blood? I'm always interested in creating, playing, or at least doing something related to music, whether it's playing with bands, running the label, organizing gigs, or even taking pictures of shows. It's my nature, I guess, and I'm fine with this little obsession of mine. It's my way to communicate and learn with the world around me.
All I have to say is thank you for the support and interview. Thanks for those who read the interview and create some interest in hearing the bands and projects I've played with, and thanks for all those who supported me during those years.
***
Follow any of the links embedded above to further investigate Ogirdor's works, and be on the lookout for new material from several of the aforementioned outlets in the future...