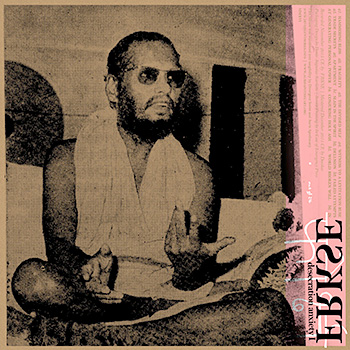 A split release between Auris Apothecary and Divergent Series, the latest full-length from Massachusetts-based experimental outfit FRKSE, Desecration Anxiety I, is a gorgeous limited edition vinyl LP said to "present a theme of false prophets and the empty promises of spirituality." It's a blend of longer, more expressive compositions and relatively succinct sketches that all combine hints of melody and jittery beats in a manner that teeters between the structural nuances of various pockets of industrial music and the more textural exploits of experimental noise—all quite effective, with great use of panning and subtlety to add intrigue and detail throughout.
"Hammering Bliss" sets the tone early, as an assortment of glitchily constructed beats encircle a heartbeat-like pulse, while various layers of lightly melodic drones and chants swell in and out—likely more complex and involved than it may seem on the surface. "The Divided Self" quickly transitions from ringing chimes to a deeper and much more sinister amalgamation of shuffling percussive textures and eerie drones, scattered with the despaired shrieks of an uneasy crowd; whereas the hypnotically repetitious surges of "Witness to a Levitation Ruse" come across like a Hare Krishna chant that has taken a malevolent turn. "Trade Secrets" lays down a murky bed of warped, lightly buzzing organ melodies just in front of a distant, restrained rhythm that lends a bit more of a chilled out vibe; and "Apartment" is the most interesting (and unexpected) of the shorter cuts—creating an almost post-punk aesthetic with some plunky bass lines and quick keyboard melodies.
"Delusion" feels like an efficiently simple and repetitive dash of tribal-tinged percussion over a looped melody, ending with a partial reading from Richard Wilbur's A Baroque Wall-Fountain in the Villa Sciarra. As the title might imply, the stripped down "Failed Attempts at Generating Personal Power" undergoes a series of false starts before its ritualistic rhythm fully kicks in and builds upon throbbing low-end drones with warbled vocal incantations. "World Broken Will" is the longest piece at just under seven minutes—a bit more openly melodic in its wealth of well-arranged instrumental samples and snippets—and feels more emotional in a sense; before the surely symbolic "In" closes things out with 24 seconds of a nearly-inaudible whirring buzz.
The packaging is absolutely beautiful here: a real work of art. The black vinyl LP is housed in a three-color screenprinted chipboard sleeve (hand-stamped out of 216 copies) that includes a download code and a two-sided black and white insert containing additional artwork and suggestive text that coincides with each track number. For example: "1.4 Everything in the world is incomplete and imperfect," or, "1.9 Let sin become disobedience to authority."
It's all expertly designed and executed, making for a wonderfully cool and unique release across the board.
Get It