Formed earlier this year in Memphis, TN by 3/4 of the lineup of dark metallic hardcore act Chaos Order, you'd never quite expect Cruelty of the Heavens to deliver a sound rooted in '80s and '90s alternative rock, shoegaze, and so on. You'd also never quite expect their quickly executed debut full-length, Grow Up and See, to be an easy contender for album of the year, but holy shit is it ever!
Seriously, this should be one of those "big deal" types of records.
Where still-successful bands such as Title Fight and Superheaven have gone wrong by over-relying on bland production techniques and overly slow, lackluster songwriting; Cruelty of the Heavens succeeds in profusion through an immensely catchy sense of energy, and an unbelievably gorgeous in-house/practice room recording. My personal favorite tune on an album packed with winners, if our premiere of "Entoptic Phenomenon" (included in the interview below) doesn't convince you, I don't know what will!
I don't get terribly excited about new music all that often these days, but I've been completely flipping out over Grow Up and See since the very first seconds of my very first listen, so I immediately fired off some questions to Neal Bledsoe (guitar/vocals) and Jared Filsinger (bass) to learn more about exactly how this masterpiece came together...
Cruelty of the Heavens formed in early-2016 during some unexpected downtime for Chaos Order, and includes the majority of Chaos Order's lineup. What brought on the downtime that allowed all of this to happen?
Neal: Chaos Order had always been a machine since its incarnation in late-2011. In 2013, Chaos Order began putting out two EPs of music every year, followed by several music videos and touring. We'd really begun testing our work ethic, our strength, and our will. It was definitely turning into a gauntlet. Basically, "Let's see who can hold on the longest," pushing ourselves and our musicianship to the limit along the way. We were all under this militant mindset. In early-October of 2015, we found ourselves in Chicago recording with Steve Albini—which was a great and enlightening experience—but I truly felt at that time that we were all growing tired. It wasn't completely obvious yet, it was more of an unspoken feeling. None of us were saying it, but you could feel it amongst us.
No sooner than the sessions with Albini wrapped, we were on a mini-tour through several states with Random Conflict. During that run is when you could really feel everyone being fatigued with it. We all agreed to take a short breather after that run. We all needed time to ourselves—time to work on relationships that we were trying to maintain, time to work on things that we'd all been neglecting. The breather lasted a lot longer than expected—half a year—which unintentionally opened the door for Cruelty of the Heavens.
Things seem to have come together very quickly.
Neal: During the downtime with Chaos Order, me and Chaos Order bassist Jared Filsinger were spending a lot of time together—drinking coffee, talking about the future of Chaos Order, and just life issues in general. Jared and I can't fully stop playing music. We don't know what taking a break truly is. We can't fucking stop. We were definitely enjoying the break from the hustle and bustle of what comes along with being in a band, but we play music every single day at home and are always working on something. A lot of times we're working on music that no one may ever hear but us.
Jared and I had these songs/pieces of songs written that we've had since high school—songs that we'd never even thought about doing anything with. We both had pieces of songs that needed to be finished. He'd have a verse that would fit a chorus of mine, or vice versa. It happened extremely quickly. Mind you, at this point, we were just demoing things at Jared's house for fun, to stay involved with music in some way or form. We didn't set out to do this at all, and didn't even think that this would ever become something, much less have a record's worth of material. It honestly happened in a flash.
Jared and I demoed around five songs at the time that we really, really liked: "Entoptic Phenomenon," "Overwhelmed," "Teenage Depression," "Transylvania," and "A Vessel Beneath a Stone." Gears started turning. I called producer/engineer David Cowell and said, "Hey, Dave, I've got something I want you to hear, I'm going to send it over." After a solid hour of convincing him that it was in fact Jared and I, we booked some time with Dave. We needed an actual drummer, so we roped Chaos Order drummer Samuel Davidson into this with us. I really give it up to Sam, because he had to learn the layout of these songs in two days! He came in the morning of recording and played the songs like he'd been playing them for years. I was blown away.
Honestly, what we really intended to do was record those five songs and just give them away to our close friends. Nothing more than that. During the sessions with Dave, we were getting so much done, it was extremely fun—and, man—it was turning out way better than we thought. I said, "Why don't we just do a full-length? We've already got five really solid songs, who knows when we'll ever do this again? Fuck it, let's do it." Me, Jared, and Sam then took two weeks and hammered out five more songs, which became "The Haunted," "Growing Up," "Mind's Eye," "The Magician," and "1995"—which Steve Albini also recorded a version of "1995." All of this happened so fast and organically that I listen to the finished record now and I'm like, "We wrote these songs? Where did these come from?" It's crazy, man.
What's the story with the Albini recording of "1995"? That would have predated Cruelty of the Heavens, so did that start out as a Chaos Order track, or...?
Neal: Well, we found out that we were going to record with Albini sometime in July of 2015. We were all super fucking excited about that! Like, the dude that's recorded all of our favorite Neurosis, Pixies, and Breeders records is going to record our band! Why!? Plus, it's going to be recorded to 2" tape, which none of us had experienced until then!? So, immediately we all agreed that we were taking only our best shit to him. We started writing brand new material right then and there. At one point, we'd hit a wall, and could not come up with the last song. We worked and worked on pieces, but nothing. It just wasn't happening.
It was just the right time and place, I guess—almost kind of a fluke that Jared and I wrote "1995." It came from aimless playing. It was really a different song for Chaos Order at that point. "1995" was extremely out of character for Chaos Order, but to us, that's even more of a reason to do it. It just felt like the right time for Chaos Order to do something like that. The song itself has so much feeling musically that I knew I was going to have to dig deep lyrically to be able to compete with the music. Go somewhere I've never gone before. I did just that. Let me just say, it's an extremely personal song about myself. It took me 20 years to come up with those lyrics, man. That's all I'm going to say, because I don't want to rob a connection that someone else could potentially have with the song. If the song makes you think of a certain person and/or time period, fine, that's exactly what it's about then.
Chaos Order goes on to record the song with Albini. Soon after, we ended up on that extended break—a break that was supposed to be a couple of weeks that turned into a month, then three months, and so forth—which turned into six months. I honestly thought Chaos Order was done for several years at that point. None of us were really talking about the band or its future. It didn't seem like it was going to come around again for a long time. Mind you, we were in the middle of recording Grow Up and See. It was really fucking with me that "1995" may never be performed live for a long time, or ever. It taking us that long to write a song like "1995," and then nothing? We ended up re-recording it with David Cowell for Grow Up and See so it could continue its life.
Steve Albini definitely captured a raw and aggressive version of it. We still love what he did with it, though the way that it appears on Grow Up and See is the way Jared and I intend on people hearing it. Albini's version will definitely see the light of day. It will appear on the Better Days/Chaos Order split. We still love that version. It has our brother, Austin Russell, playing guitar on it as well. "1995" is the song that opened a lot of doors.
You also mentioned a general backlog of assorted music between the two of you. Since Cruelty of the Heavens erupted out of said backlog almost out of nowhere, I can't help but be curious what other types of bits and pieces the two of you have kicking around in the archives that could potentially yield similar outpourings in the future...
Jared: My morning ritual is to make some coffee and sit down with my bass or keyboard. I try to create something every day, whether it's a song for Cruelty of the Heavens or a darkwave song just for fun, and I know Neal is the same way with his guitar. The only person I have ever met more possessed by music than myself is Neal. It's all we talk about. Every time we see each other, we show each other a new song we are working on. We actually have enough material for another record, but we don't want to flood people with record after record like we did with Chaos Order. We want the Grow Up and See album to have time to catch on and sink in for people before we put out another full-length. We wrote a song together the other day and I thought, "Fuck, I want to record this right now," but had to remind myself that the first record has still yet to be heard. As long as our hearts are pumping blood, I don't think our outpour of music will cease.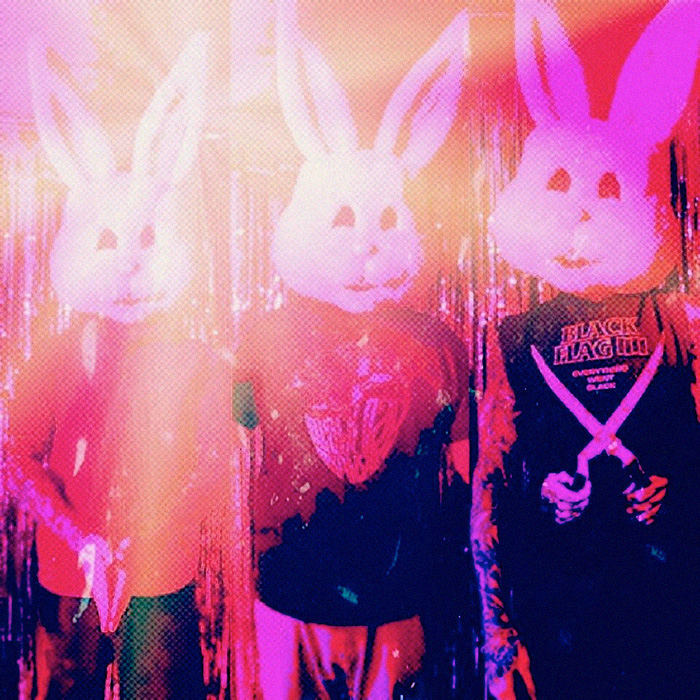 This project is largely influenced by a lot of '80s and '90s alternative rock outfits, as well as some post-punk, shoegaze, etc. Some of Chaos Order's most recent output was actually starting to show signs of such influences, though certainly not to the degree which Cruelty of the Heavens explores. Had this idea been in the backs of your minds for some time?
Neal: Me, Jared, and Sam all love bands like The Cure, The Smiths, Slowdive, Catherine Wheel, Joy Division, The Stone Roses, Superdrag, My Bloody Valentine, and Type O Negative. We also love the fuck out of The Doors, man. So, it was natural for any of those outlets to spill over into Cruelty of the Heavens. Honestly, it hadn't been in the backs of our minds. Chaos Order is about the unconventional: "Let's do this because the others won't." We all love pissing off the elitists: fuck you, we're musicians. I'm personally not going to have anyone tell me how things are "supposed to be done." My creativity and influences run deeper than one genre of music. Music is all based off of feeling, man. That's what I myself go off of: how something makes me feel. If it feels right, I'm going to do it, regardless of how it may sit with others. I don't do things based off of what some pretentious person writing for the paper might like, I do these things for me because it makes me feel better. I know with 100% confidence that this is how the other guys feel as well. Chaos Order has been in a transitional phase for a while, we just want to explore different areas of music and see what's out there. I think "Eternal Recurrence," off of the EP Distant Chords of Disharmony, is our most experimental song to date.
A number of fairly popular contemporary bands like Title Fight and Superheaven have gravitated farther toward these types of influences in recent years, but I feel like many of those groups started to lose steam and slip into a bit of a boring songwriting style. What I love about Cruelty of the Heavens is that you build from a similar foundation, but retain a highly catchy sense of energy.
Jared: Neal and I write songs together in a much different way in Cruelty of the Heavens than we do in Chaos Order. We set out to just have fun with this project and to draw from a wider range of influences that we haven't presented previously. We wanted to create a mix of '80s and '90s music that we love, but still tap into that same aggressive energy that has always inspired us. We are both open to and encourage each other's contributions to the songs, and the music is much more personal on an emotional level because of that. Neal wrote the lyrics to one of our songs based on a personal pain that I was going through at the time, and that meant a lot to me, and I feel it really shows the honesty we are trying to convey with this project.
I know that band name questions are stupid, but Cruelty of the Heavens shares its name with a track on Boyd Rice and Douglas P.'s Scorpion Wind album, so I was wondering what inspired that decision, and if/how it ties into what you're doing thematically?
Jared: The title originally comes from the Carl Jung book Seven Sermons to the Dead, which also inspired Boyd's song by Scorpion Wind. We are fans of Jung's books, and are very interested in his Seven Sermons... and the book's main focus, the gnostic deity Abraxas—the god of duality, that natural balance in the universe. I believe it mixes well with our musical and aesthetic vision—whether it be in combining melody and melancholy in the songwriting, or in our imagery.
Obviously there's a darkness to the lyrical content—and differently so than what Chaos Order explores—and certain passages seem very specific to real-life events. Without having seen the lyrics to confirm, it actually comes across like a concept album. Is that the case?
Neal: You know, the concept album thing happened unintentionally. For lyrical inspiration, I was taking trips back to a much younger and more naïve version of myself. All of the lyrics were written from the perspective of a person from the ages 13 to 18. Depending on the person, those five years could be a lifetime's worth of memories. To me, those are really, really important years in one's life. You make friends and you lose them, you lose extremely important people along the way and you learn how to deal with those things. Also, during that time, one is trying to find themselves.
I will say, one track in particular I wrote about a situation that Jared was dealing with at the time of recording. I just really connected with the situation and was truthfully hoping that I could offer some sort of relief through the lyrics. What Jared was going through took me back to a similar time in my life and I was like, "Fuck, now I've gotta write about it!" It wasn't until I was listening back to the completed album that I noticed it was telling the story of a person. As the album progressed, so did the person. The person is getting older as the album goes on. It was completely unintentional.
Your 10-song full-length, Grow Up and See, was recorded at The Noise Factory with David Cowell from March through May of 2016. What was the experience like? It sounds slick as shit!
Neal: We actually recorded the entire record in our practice room and at Dave's house [laughs]! Our decision on that was we wanted the recording process to remain fun. We all wanted to be in our element where we're most comfortable. If that remained fun, the rest of it would follow suit. We didn't want this to seem like work at all. We've all done the studio experience for a lot of years now. It's not that cool, to be honest. Depending on the studio and who you're working with, it can be extremely sterile. Also, racing the clock in a studio isn't fun, either. It's fucking annoying. "Come on, we've gotta get to work, time is counting down!" Man, shut the fuck up, I haven't even had my coffee yet!
We definitely made the right decision on choosing to do it that way. Man, Dave was incredible during all of this. He would pack up his equipment, set it up in our practice room, we'd do sessions there, then he'd break it all down, then we'd do sessions at Dave's house, then we'd come back to the practice room. He definitely deserves some sort of an award for that.
Grow Up and See will be released in mid-November through Encapsulated Records, who will also eventually release the Chaos Order/Better Days split, which has been on deck for a while. How did Encapsulated get involved, and what details can you share about the forthcoming release?
Jared: We came into contact with Encapsulated Records while touring through St. Louis with Chaos Order. We became friends with the guys in Better Days, and their drummer Travis passed on some Cruelty of the Heavens tracks to Encapsulated. He didn't tell them it was any members from Chaos Order, he just wanted a cold reading of it to see what they thought. They really liked it, and when they found out it was from the same guys in Chaos Order, they were surprised by the contrast in sound and said they wanted to work with us. The LP will be released on November 15th, and the video for our first single, "The Magician," will be released by Blank TV on October 15th.
I've already mentioned to Neal personally that within a single listen this is easily one of the best albums of 2016 for me. It really feels like it should be a "big deal." Is there any chance that Cruelty of the Heavens might usurp Chaos Order?
Jared: Right now we are just having fun and working hard with both projects. It's nice to have a creative outlet for our love of fast/heavy music with Chaos Order, and also for our love of bands like The Cure and Superdrag with Cruelty of the Heavens. I can honestly say I am more pleasantly surprised with the outcome of this record than anything I have ever done. Within just a few weeks of the band's inception, we had written and recorded a full-length record, and it was a fun and enjoyable experience the entire time. Being able to write music based on pure emotion and not worrying about if it's aggressive enough or heavy enough is a very freeing experience. We honestly just wrote this record for fun and for a release of pent-up inspirations, without every knowing if we would release it on a larger scale than amongst friends, and I feel it's that much more good and sincere because of it.
***
Grow Up and See is now available for pre-order on CD or as a CD + t-shirt bundle through Encapsulated Records. The official release date is November 15th, and pre-orders start shipping on November 11th. Find Cruelty of the Heavens on Facebook, Instagram, and Bandcamp.