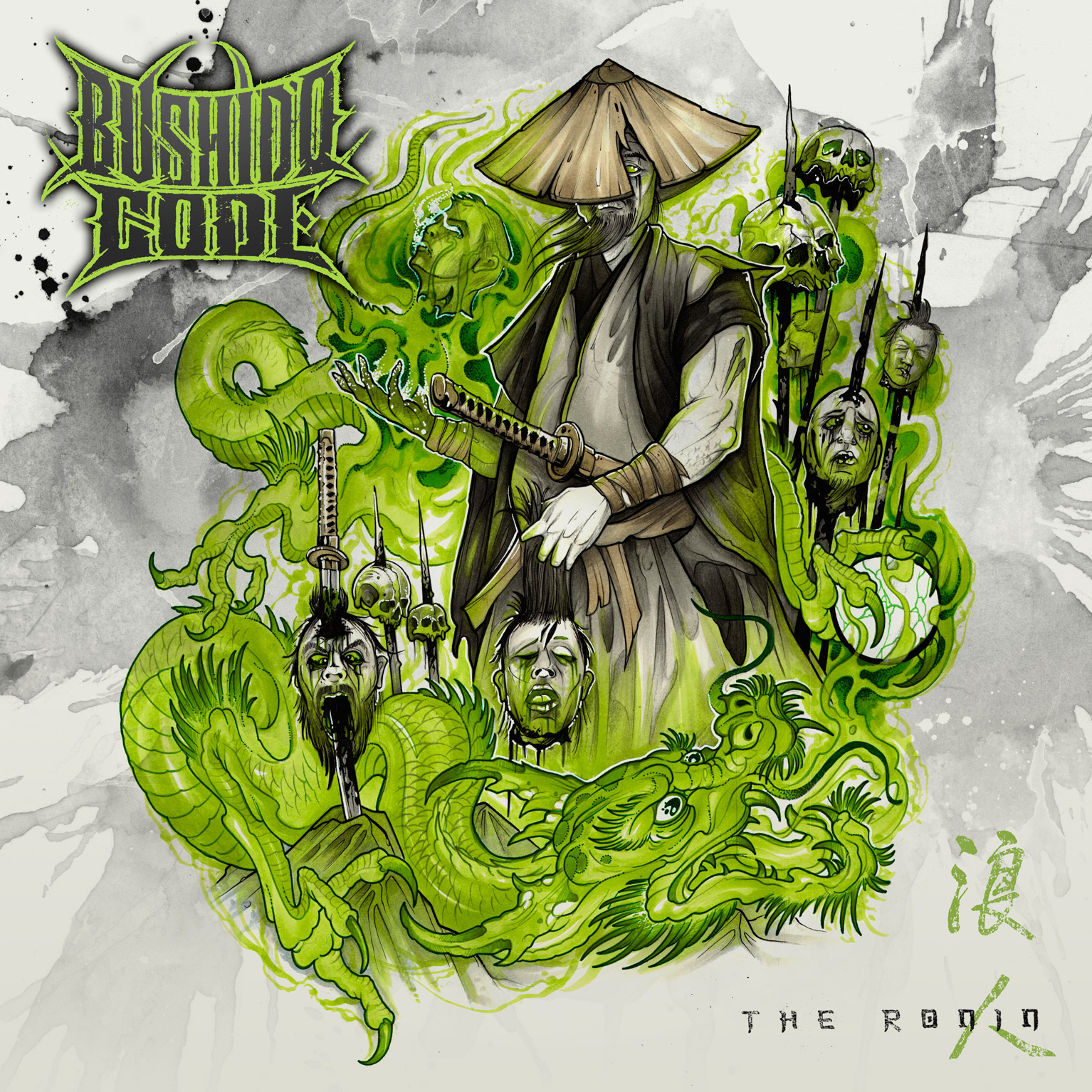 If memory serves, I became aware of Bushido Code fairly early on, as one of their guitarists, Derrick Voricci, was in the final Fury of Five lineup that recorded the Real is Back 7" in 2015. He's also an insanely talented artist (you actually have a few more days to enter a raffle to win his original cover art seen above), so I followed his work and eventually started seeing mention of this other band: Bushido Code—which is essentially thrash metal music played by hardcore individuals. A few years and two EPs down the line, the group is now prepared to unleash their debut full-length outing, The Ronin, later this week (pre-order now through Upstate Records or Cold Cuts Merch). The tightly-honed nine-song/30-minute affair breathes new life into the style through formidable songwriting that displays some of the finest dual guitar interaction and panning I've heard in years, not to mention memorably well-composed guitar solos, etc.—tactics far too often overlooked by less studious musicians.
Check out The Ronin's opening title track below, followed by an interview with vocalist Mike Ledet (who you may also be familiar with through his work with fellow Upstate Records artists Paid in Full):
Bushido Code isn't necessarily a "concept band" per se, but The Ronin continues to illustrate a certain consistency of theme across the band name, your release and song titles, and of course the artwork. How did you land on this overarching motif for the group, and in what ways is it also important to you outside of your music?
Well, it really was born from the movie Shogun Assassin. [Bushido Code guitarist] Derrick [Voricci] got it from that and we loved it. But, I also respect this culture tremendously. It felt like a cool way to tell a story like a movie, but the undertones could be based on reality. I mean, we as humanity have lost our code!
You're able to broaden some of those ideas so that the lyrics touch on a wider range of contemporary topics, so talk about how you approach the lyrical subject matter in that way.
Man, that's really it. We took these issues and put them to a story so you couldn't deny it, you would see it as clearly as the reflection of yourself in a mirror. I mean, the song "Stench of Cowards Rot" sounds like this gory song, but when you peel back the layers it's really about the greed in our political system. With lyrics like "the pigs burst but they still continue to eat," that's pretty self-explanatory. It gives you a visual of how greed really works—at least that was the intention. But all of it is done through the eyes of this ronin-styled samurai, Da Shi, and that amplifies every situation because of his code—hence the violence, if that makes any sense at all?
Bushido Code exhibits some of the best dual guitar interaction and panning I've heard in years. That approach to riff-writing and song construction has become such a neglected technique for some reason. Did you set out from the start to make that an important component of your compositional style?
We appreciate that! And yes, since the beginning, it's always been about the riff and melody with us—long before anything gets structured or composed as an entire song. The dual guitar inspiration comes from listening to a ton of old Metallica, early Testament, and Thin Lizzy. We try to be unique with the harmonies, but you will definitely hear some inspiration from the darker melody masters like Death and Slayer. We've always just tried to have that memorable riff. The recipe for Bushido Code is Derrick writes the lion's share of the riffs, but where the band shines is in the structuring process. Creating that roller coaster of energy in the song. The recipe is: write a couple of breakneck parts, add a couple of stick-in-your-brain melodies, and throw in a few burner licks every once in a while for candy. The most important thing is always going to be "the song" as a whole. I think what's missing in a lot of hardcore, metal, and crossover nowadays is that it's usually riff > riff > riff > end. Nothing to capture you. We will always strive to write a memorable song, that's first. Then add just enough guitar candy and headbanger shit for everyone.
The Ronin includes re-recordings of one track from each of your prior EPs, so what made "Loyalty" and "Benevolence" make the cut?
We believe that they were the strongest songs on those two EPs. The original recordings just weren't what we wanted. They were good, but they just didn't do the songs justice. To be honest, we struggled with this. We didn't know if we wanted to go back and re-record two old songs when we had the chance to put two new songs on it. But, after some consideration, we really thought it was the right move. Our gamble paid off, in my opinion. The songs sound totally different than the originals. It's what the songs were supposed to sound like, and that's what we wanted.
I felt like the first two Bushido Code EPs were a little under-the-radar, but it seems like there's a good bit of hype now building up to the full-length. Upstate Records has a pretty solid promotional base, of course, but I also know that both of your guitarists are major gearheads with cool YouTube channels [Derrick Voricci and Kyle Bull] where they run through a bunch of different guitar-centric content. Especially considering the lack of shows and whatnot over the past 12 months, I'm curious if you've been able to gauge any impact of those YouTube channels bringing listeners in to check out the band? I could definitely imagine people otherwise oblivious to Bushido Code peripherally discovering the group through those YouTube videos and being pleasantly surprised.
For sure, the YouTube stuff was started solely for the love of gear and trying to create a tighter-knit guitar community. It definitely can't hurt in promoting the band, but wasn't really the focus going in. We are definitely gearheads, and will take any opportunity to talk about guitar equipment. We've been extremely particular about our guitar tones, and have settled into "our sound," but we continue to tweak as we go. We are hoping with the release of the full-length and official videos that we can start to really push the actual Bushido Code YouTube page. That's what's most important moving forward.
With the pandemic still keeping things in limbo as far as potentially planning future live dates and such, it's still kind of an odd predicament to be releasing an album these days. Bushido Code has been steadily prolific since your formation, though, so all things considered, are there any early thoughts as to what the future might hold for the band?
Well, naturally when things get back to "normal" we will be playing again. But, we also have a lot of ideas on using the internet to the best of our ability—you know, with maybe quarantine covers, playthroughs, lyric videos... just doing our very best to keep people interested in what we have going on and to keep them informed. I think that's all that any band can do right now. We're really excited about our video for "Aftermath" coming out, that's gonna be a big one for us. I've never shot anything that cool, and we froze our asses off all day while doing it. All in all, we plan to be around for a long time, playing the heaviest fucking thrash metal you've ever heard!
***
The Ronin will hit the streets this Friday, April 16. Pre-order now through Upstate Records or Cold Cuts Merch. Hear more from Bushido Code via Bandcamp (here and here) or Spotify, and keep up with the band on Facebook and Instagram.