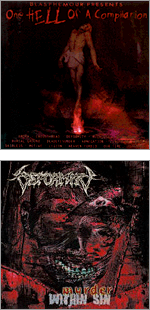 Ryan from Blasphemour Records recently sent me an email and let me know that the label has decided to give it another shot (he's looking for bands to work with, so get in touch if you're label hunting), and asked if I'd be interested in writing about his past efforts from the late-90's (as well as offering my readers a coupon code, see below). Blasphemour Records started up in 1999 and quickly released two CD's that same year before eventually calling it a day: "One Hell of a Compilation", and Deformity's "Murder Within Sin". Both of these releases have had a home in my collection for some time now, so of course I agreed.
"One Hell of a Compilation" is a 17-track collection featuring an assortment of bands such as the metal-based "hardcore" of Deformity, Length of Time, and Burial Ground (If anyone can hook me up with the "Let Us Pray" EP, please let me know! I've been searching for ages!); the rugged abrasiveness of Milhouse; or the straightforward death metal of Abnegation and Skinless—not to mention an early appearance from Goatwhore, and rare experimental noise tracks from Arora and Psywarfare. (The Psywarfare contribution alone is almost 17 minutes long!)
"Murder Within Sin" is the debut full-length from Belgium's H8000-linked Deformity (which was released in Europe by Next Sentence Records), and marked the band's first foray into a sound that was essentially full-on death metal with just a few crunchy breakdowns here and there (whereas their prior EP had maintained a little more semblance of a metallic hardcore type of edge). As far as "metalcore" bands that started moving towards death metal goes, this album sits right at the top of the heap for me. The quality of the riffs, the intensity of the vocals, the songwriting... everything falls into place nicely, and hits with more force than a lot of comparable material from that general time period.
You can listen to one track from each CD here, and for a limited time you can get 40% off of your total order from Blasphemour Records using this coupon code:
aversion
I know I'm not saying very much here, but I threw this post together really quickly so people could take advantage of the coupon code. There are very few copies of the compilation left, so don't wait around for too long if you're interested!
Get It