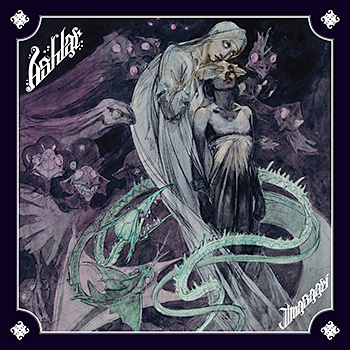 On CD and digital from Czar of Bullets, cassette via Antiq, and eventually coming out on vinyl through Throne Records, Ilmasaari is the debut full-length from Basel, Switzerland duo Ashtar. Expect six tracks of uniquely blackened doom/sludgy goodness in over 45 minutes, that tends to lean on the dark and ethereal, while shunning anything that might typically garner any "stonery" adjectives.
With a little bit of a black metal-esque snarl to the vocals, opener "Des Siècles Qui Éternellement Séparent le Corps Mortel de Mon Âme" unloads sludgy, head-bobbing grooves with fuzzily overdriven lead textures/psych implications. There's a relaxed swing to the percussion that eventually starts to blast—alongside some tremolo picking—shortly past the halfway mark, though tonally it's very different than stereotypical black metal aesthetics. The basic yet incredibly effective "She Was a Witch" then builds upon a core of simple, driving doom riffs. Again, the vocals are generally more of a bitter snarl, though there are fantastically droning monotone chants in there, too. The 13-minute "Celestial" continues that trend of top-shelf riffing, layering in some superbly eerie acoustic finger picking to boot. Largely instrumental (half-whispered vocals don't make an appearance until almost four minutes in), its length and repetition aid its hypnotic effects—slowly flowing into one of the more mournfully melodic pieces. Gorgeous work.
Despite being the shortest track at five minutes, the overall pace of "Moons" is a touch slower, the vocals a touch deeper (joined by lulled singing)—a textbook lesson in doom supremacy. Then, unexpectedly, "These Nights Will Shine On" quickly twists a very similar approach into a midpaced black metal rager that by the three-minute mark has dropped out to near silence, before easing back into a doom-psych groove for the remainder of its run. And don't let the succinct atmospheric intro to "Collide" fool you: that didgeridoo/violin combo will bring to mind My Dying Bride in no time.
Part of what makes the simplicity of tracks like "She Was a Witch" or "Moons" so impactful is that the guitar tone is so fuckin' beautiful. Incredibly warm, the perfect amount of grit, monstrously heavy... I don't know if you could score a better guitar tone for anything of the doom/sludge variety. So, of course guitars dominate the mix, but that makes perfect sense. You can make out just enough bass, and while the percussion is surprisingly distant, that feels just fine.
Visually they've got a great logo, great cover art, and a clean, simple design that devotes one page to each set of lyrics:
As above, the skies are grey
They step into the walls of night
Where saturnine flowers are in bloom
Dazing the sleepers eternally...
I know I always say the same shit over and over, but I remain consistently stunned by the fact that these bands don't seem to obtain the wider scope of attention they deserve. All of the ingredients are present, and in plentiful supply, so coax these sounds into the right ears, and minds will be blown...
Get It