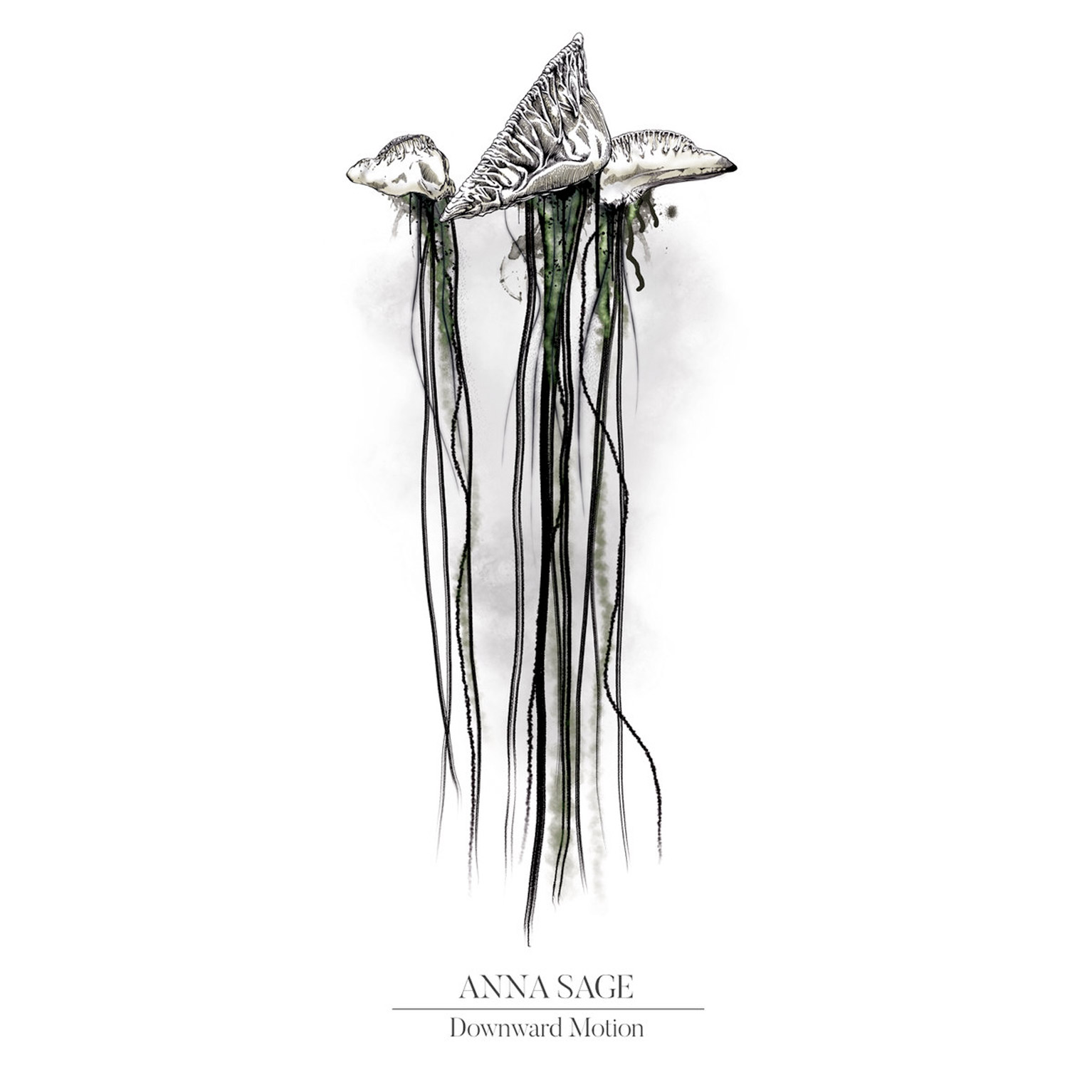 Anna Sage, from Paris, France, delivers rhythmically surging metalcore that is both savagely chaotic and accompanied by undercurrents of melody and emotion, with vocals that fittingly traverse a range of techniques from soft-spoken whispers to glass-gargling screams. The band's sophomore EP, Downward Motion, will be out on December 1 as a cooperative effort between Dingleberry Records, En veux-tu? En v'là!, Itawak Records, and Vox Project. Pre-orders just launched yesterday—on CD, 12", or digital—via Bandcamp.
Downward Motion represents a significant step forward for the group, and is rather reminiscent of Converge circa, say, The Poacher Diaries. That is to say: essential listening for fans of that particular era of metalcore—technical and adventurous without necessarily running too far out of bounds in any particular direction, you know?
Check out "Goddess" below, followed by a quick chat with Seb (bass) and Xavier (vocals):
The promotional materials for the new EP mention that some lineup changes last year have impacted the slightly more straightforward and aggressive sound of Downward Motion. Talk a bit more specifically about the lineup changes and how they've influenced Anna Sage's current direction.
Seb: These last years, the lineup has indeed evolved a lot. From an original five-member band, we have moved to four now. We had stopped our activities for almost a year with the departure of our previous guitarist, and the singer changed last year. On the guitar, the arrival of Gabriel brought another dynamic. We reworked together the pieces that were already well advanced in their compositions to arrive at the result that we recorded together this year. Xavier, on vocals, has also been able to bring his style—and it was not easy to replace Jonathan, who had a very authentic and personal approach to singing. Xavier was able to fit into the project by bringing in a ruptured singing—quite effective, but well tortured in its approach as well.
We're premiering the EP's second track, "Goddess," which you told me you felt was its "most listenable" composition. Elaborate on this particular song and why you feel that way, as well as its lyrical direction, etc.
Seb: When we say "most listenable," this is an observation that we could only make afterward. We didn't start the songwriting by saying that we would go in that direction. We used to compose a lot of tortured or frantic things, a lot of D-beat, etc. But for this EP, we wanted to develop another approach—that the discomfort is not in aggression, but elsewhere. Finally, on this specific piece, we have a more mid-tempo result—more airy, but still so aggressive.
Xavier: The lyrics refer to addiction in all its forms, and the ravages it causes. Like a demon we would try to exorcise, the addiction often ends up taking over and playing with our will. At its climax, it can lead to a madness that can sometimes be fatal. No matter how we can fight, it is always difficult to get out. It is this painful fight that I wanted to describe in this song.
Your debut EP, The Fourth Wall, sounded quite strong, but there's definitely something about Downward Motion that hits with more immediate impact from a production standpoint as well. What was the experience like working with Francis Caste at Studio Sainte Marthe?
Seb: What we wanted was to make the production serve the project on this EP. On the previous EP, some passages could lose their effectiveness, but for Downward Motion we wanted something really in tune with the songs. Working with Francis on this EP was a huge experience for us. He is both very demanding and very attentive to the musicians. He really knew what we wanted, the direction we wanted to take, and how we wanted to sound. His tips and suggestions have always been valuable, we know that we owe him a lot on the quality of this EP.
Downward Motion will be co-released between four different record labels. How did the multi-label cooperation come about for this project?
Seb: The labels that have joined the project are actors of the underground scene that we met on the road during past tours. We've known our Parisian friends from En veux-tu? En v'là! for a few years now, and their concerts are always a success. Their unwavering commitment to supporting the underground scene has been known to everyone for many years. In Strasbourg, we met the Itawak Records team several times, who also do a great job—both as a label and as concert organizers. We also met Tim from Dingleberry Records during our visit to Germany, and we were strongly recommended Vox Project, with whom we sympathized and who appreciated the project. We love the artists of these four labels and all the work they do for our scene. We are really satisfied and grateful to them for supporting us in the release of Downward Motion.
I don't think I've seen anything yet that mentions what formats the new EP will be available on. Vinyl? Cassette? Etc.?
Seb: Downward Motion will be available on 12", CD, and digital via our Bandcamp; and also on vinyl from all four labels.
I'm quite out of touch these days, but I know that the French scene has long offered quite a bit of impressive music, and recall having been a big fan of labels such as Basement Apes Industries and Radar Swarm many years ago. Who would you say are some contemporary French acts that Anna Sage fans should also seek out?
Seb: During this year or even last year, we liked the outings of Yurodivy and LMDA, which are two groups signed by Itawak Records, one of our labels. The Løvve album released in early-2018 is also very big. Our friends from No Vale Nada do a great job, too! In a slightly different style—more airy—we had the opportunity to share the stage with Ingrina, and we were really fans of their style. The list is long, it's impossible to name everyone, but the French scene is full of a lot of interesting artists.
***
Pre-order Downward Motion on CD, 12", or digital directly from Anna Sage via Bandcamp. Keep up with the band through Facebook, Instagram, or Twitter.